Home > Cricket > Australia in India 2008 > Report


Discuss |
Email |
Print | Get latest news on your desktop


Injured McGain ruled out of first Test

October 01, 2008 14:30 IST



Australia's [Images] already depleted spin attack lost more sting on Wednesday with leg-spinner Bryce McGain ruled out of the first Test against India due to a shoulder injury.

The 36-year-old picked up the injury while touring India with the Australia A side last month and developed a sore shoulder after Tuesday's practice session in Hyderabad.

His injury, which makes him a doubtful starter for the second Test as well, virtually clears the deck for 25-year-old off-spinner Jason Krejza's Test debut in Bangalore.

"McGain is not fit. He pulled up sore yesterday and his injury is being assessed," Australia coach Tim Nielsen said.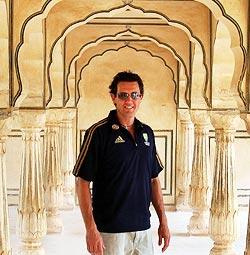 "The physio will take a call in the next 24 hours but he is definitely going to miss the warm-up match here and most probably the first Test as well," he said.
Team sources said the back injury would require at least two weeks' rest and the IT worker-turned-cricketer might miss the second Test as well.
"We will have to talk to the selectors as well. For if another player gets injured, we might have to rush in substitutes," Nielsen said.
The Australian coach said McGain's injury provides Krejza a gilt-edged opportunity to prove his mettle and the youngster is up to the challenge.
"Krejza has done a brilliant job so far and it would be a great opportunity for him to bowl some of the best players of spin bowling," he said.
Meanwhile, Australia's injury woes don't end here and the think-tank is also worried about all-rounder Shane Watson who is running fever.
"He woke up with temperature, it could be viral but we hope he would overcome it. We'll see if he is fit for the match tomorrow. We'll take a call tonight or tomorrow morning about his chances of playing the warm-up match," Nielsen said.
Dwelling on the Test series against India, Nielsen said it is important for the Australian batsmen to tackle India's famed spin attack and they should do everything to ensure that they learn the craft before the first Test begins.
"I hope our batsmen get enough practice of playing quality spin to go into the first Test fully ready to face Harbhajan Singh [Images] and Anil Kumble [Images]. There is no better place than India to learn how to play India. Over the next four days, we have to give ourselves the best chance to come to terms with the Indian spinners," he explained.
Nielsen also brushed aside the notion that inexperience might prove Australia's bane in India and reposed full faith in the youngsters.
"We have players like Ricky [Ponting] and Matthew Hayden [Images] who have played Test matches in India. Players like Brett Lee [Images], Shane Watson, Michael Hussey also have played here and know the conditions pretty well.
"I think it's an exciting opportunity for other players and India too must be excited about the youngsters," he said.
Photograph: AFP/Getty Images
Complete coverage: Australia in India 2008
Email |
Print | Get latest news on your desktop