Home > India > Cricket > Stars We Spotted


Discuss |
Email |
Print | Get latest news on your desktop


Spotted: Sourav Ganguly in Hyderabad

November 11, 2008



Reader S V Ramaswamy sent us this picture from Hyderabad.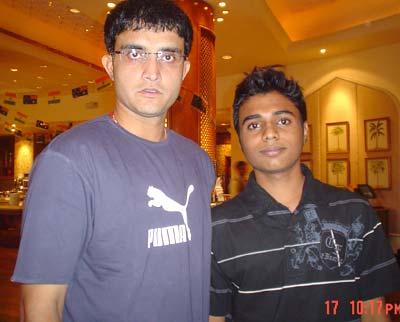 'I wanted to have a snap with Sourav Ganguly [Images] when he was in Taj at Hyderabad. He readily agreed and this was a most memorable and privileged moment for me.
'I consider Sourav as the greatest icon who fought on principles and never hesitated  in calling spade a spade,' writes Ramaswamy.
'It was he who inspired the team and brought in youngsters like Yuvraj, Shewag, Irfan, etc. He is a charismatic leader and we will miss him. He for the last time wore the Indian cricketing cap and was gracious in his interview and singed off from his colleagues in style with a contribution of 85 runs, which makes us all of us proud.'
'I, from the core of my heart, wish him all the best on the road ahead.'
Thank you, Ramaswamy, for sharing this picture!
If you encounter your favourite cricket/sports personalities, send us the photograph or video on sportsdesk@rediff.co.in We will feature the best images right here on Rediff Sports or Rediff Cricket.
- Please check more Reader photographs
Now you can keep track of the celebrity pictures through our RSS feeds
Email |
Print | Get latest news on your desktop