Home > India > Cricket > Stars We Spotted


Spotted: Akhtar on his way to Kolkata

May 06, 2008



Reader Dhiraj sent us this picture.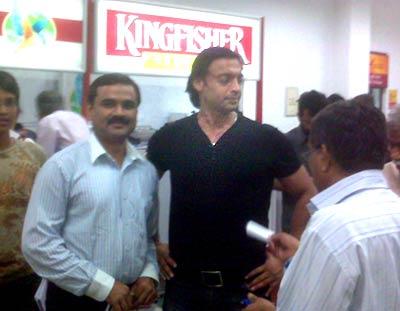 'This is Dhiraj from Bangalore. On my way back from Delhi on May 5th, I met Shoaib Akhtar [Images] at the Delhi airport. He was going to Kolkata to join his IPL team,' writes Dhiraj.
'Unlike his onfield tough personality, Shoaib was very amicable off the field and readily allowed me to take the snap.
Wish him all the best for his stint with Kolkata Knight Riders. Hope the team regains its winning formula with the arrival of the fast & furious 'Rawalpindi Express'.'
Thank you, Dhiraj, for sending this photograph!
If you encounter your favourite cricket/sports personalities, please mail the photograph or video to sportsdesk@rediff.co.in. We will feature the best images or videos right here on Rediff Cricket or Rediff Sports.
Also see: More Reader photographs