Home > India > Cricket > Stars We Spotted


Spotted: Imran Khan in LA

March 25, 2008



Reader Tony Parakka sent us this picture from Los Angeles.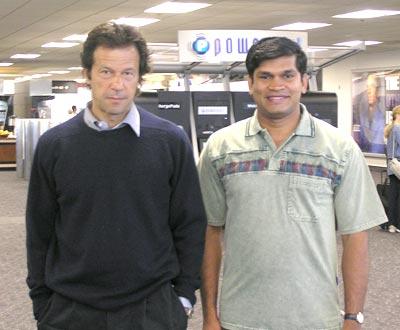 'I spotted Imran Khan [Images] at Los Angeles airport in April 2005. It was a great honour to speak with him and also know about his fund-raising visit for his charitable cancer institute in Karachi.
'He is a true legend in cricket, with great personality; one of the best all-rounders in world cricket... popular in Pakistan politics, columnist, good commentator and the captain of the 1992 World Cup-winning team. So I was really lucky to have a photograph with him,' writes Tony.
Thank you, Tony, for sending this photograph!
If you encounter your favourite cricket/sports personalities, please mail the photograph or video to sportsdesk@rediff.co.in. We will feature the best images or videos right here on Rediff Cricket or Rediff Sports.
Also see: More Reader photographs