Home > India > Cricket > India's tour of Australia 2007 > Report


Harbhajan cleared of monkey business

March 03, 2008 16:05 IST
Last Updated: March 03, 2008 16:42 IST



India off-spinner Harbhajan Singh [Images] was cleared of any wrongdoing during the first final of the CB Tri-series against Australia in Sydeny on Sunday.

ICC [Images] Match Referee Jeff Crowe ruled out action against the bowler, who is alleged to have made monkey gestures towards crowd at the SCG.

Australian media had reported that Harbhajan made monkey gestures towards the Sydney crowd during the match, which India won by six wickets, and even spat in anger while fielding at the boundary ropes.

"I have investigated the alleged incident with Cricket Australia's ground security officials after reading newspaper reports and viewing related photographs that have been published.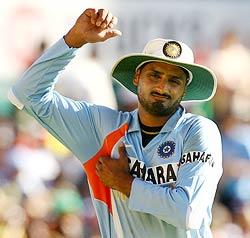 "After reviewing all available information, I conclude that there is no need to take any action against Harbhajan Singh," Crowe said in a statement, issued by the International Cricket Council.
Local media reported that Harbhajan apparently motioned as if to scratch his armpits with both hands in the same manner fans did to taunt Andrew Symonds [Images] in the one-day series in India last year.
The Sydney Morning Herald claimed to have a picture of Harbhajan making the gesture.
Harbhajan, who was involved in a racism row with Australian all-rounder Andrew Symonds, rubbished the allegations and said no evidence could be produced to prove him guilty.
When The Indian spinner was informed that the official broadcaster, Channel 9, might not have any incriminating evidence to offer to the Match Referee to nail him down, the Indian spinner was not surprised.
"Obviously, they wouldn't have anything because I didn't do anything," said Harbhajan on arriving in Brisbane, looking to build on his fabulous performance on Sunday with a series-sealing triumph at the Gabba.
Harbhajan said he was stumped at the accusation that he was trying to make monkey gestures towards the crowd.
"Some of the verbal attack which the crowd was directing at me was despicable. It crossed all limits of decency. But my word, as a professional cricketer, my entire focus was ensuring that we as a team did well in the match."
Harbhajan was also accused of spitting time and again apparently to taunt the hostile crowd.
"When you have saliva in your mouth what do you do?" asked Harbhajan, barely able to hide his irritation.
One of the regulations of the ICC and Cricket Australia is to ensure that crowd at a stadium does not make any racial slur or abusive gesture towards cricketers on the field and those found guilty of doing so, are to be evacuated immediately -- worse, they could even be banned from attending matches in those stadiums in future.
Clearly, this was not the case at the SCG on Sunday night while this supposed "exchanges" were taking place between the crowd and Harbhajan.
"Probably it wasn't possible -- or else the security would've had to clear the entire stadium," said Harbhajan laughingly.
He, however, found support from legendary Australia captain Allan Border [Images], who praised the bowler for his behaviour after he was baited by the SCG crowd.
"I was over that side of the ground and Harbhajan was copping a fair bit of stick from the crowd," Border said.
"I didn't notice any gestures at all and I thought he handled himself pretty well. It's not a big deal," he was quoted as saying by the Herald Sun.