Home > India > Cricket > IPL > Report


I relish playing under pressure, says Yusuf Pathan

Harish Kotian in Mumbai | June 02, 2008 19:53 IST


| | |
| --- | --- |
| Yusuf Pathan | |
| | |
| | |
| | |
| | |
| | |
| | |
Yusuf Pathan gained revenge of sorts after playing a stellar role in the final and helping Rajasthan Royals win the inaugural Indian Premier League [Images] on Sunday.
Around a year ago, the dashing all-rounder was part of India's victorious Twenty20 World Cup-winning squad, but ignored for the whole tournament, save a solitary opportunity in the final after Virender Sehwag [Images] was indisposed due to injury.
Thus, his match-winning knock of 56, coupled with three wickets, was like a slap in the face for Chennai Super Kings [Images] captain Mahendra Singh Dhoni [Images], who had given him the cold shoulder during India's first Twenty20 outing in South Africa.
Yusuf amassed 435 runs in 16 matches in the IPL, at an amazing strike rate of 179, inclusive of 43 boundaries and 25 sixes. His exploits now have the entire nation in awe of his batting prowess.
"I am feeling very happy, since it was the first ever IPL tournament. Also, it feels very special when you play a major part in helping the team win the title," Yusuf told rediff.com in Mumbai on Monday.
Even though he is being credited for a playing a major role in Rajasthan's title triumph, Yusuf is quick to point out that it was team effort and no individual should be singled out.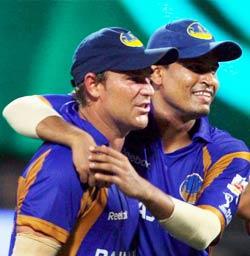 "The team is very happy since everyone has put in so much effort throughout the tournament. It is not that I was the only one who contributed; it was team effort overall that helped us perform so consistently through the tournament and ultimately win it," he said.
The Shane Warne [Images] factor though does get special mention.
"Obviously, Shane Warne played a major part in our triumph. The support staff, including [performance coach Jeremy] Snape and [director of coaching] Darren Berry also played key roles by helping us prepare for the matches," Yusuf admitted.
The Baroda all-rounder hit four half-centuries in the IPL, including the fastest of the tournament, off just 21 deliveries. Each time he strode out to bat, he either bailed his team out of a difficult position or guided it to victory with some inspired stroke-making.
Indeed, Yusuf, who was signed up for US $475,000 in the auction, was worth every penny his owners, Emerging Media, paid for him. He revealed that playing under pressure brings out the best in him.
"I relish playing under pressure. I enjoy batting whenever there is pressure on our team. In the final, we were under pressure when I came in and I had the opportunity to prove myself. Even in the earlier matches, I came in when we had to either push on with the scoring rate or were behind the asking rate while chasing. So every time I came in to bat I had to attack the bowling.
'And, frankly speaking, I also enjoy hitting the ball; so I don't mind such situations," he declared.
It was certainly no flash-in-the pan success for the 25-year-old. He came into the tournament on the back of a successful showing in the Ranji Trophy, where he scored 441 runs in seven matches, with a strike rate of 110, something quite unusual for four-day games.
Asked what lessons he takes back from the IPL, now that he has made it to the Indian one-day squad for the Bangladesh tri-series and Asia Cup, Yusuf replied:  "I have learnt a lot from the IPL. There were a few senior international players in our squad from whom I picked up a lot of things. I am sure that will help me in future when I play for India."
With younger brother Irfan, who played for Kings XI Punjab [Images], getting knocked out in the semi-finals, Yusuf assures there won't be a bragging match once he reaches home.
"No, I won't tease or taunt him. It is just cricket and there is always a winner and loser. He could have also finished on the winning side, but it happens sometimes... and to everyone."
Irfan, he said, was the one who showed him the way and still continues to inspire and motivate.
"Irfan did wish me good luck before the final. He wanted to come and watch the final to cheer for me, but could not make it due to some reason," he said, before rushing off to catch a flight for home.