Home > India > Cricket > PTI > Report


Discuss |
Email |
Print | Get latest news on your desktop


Viswanath on how to play Mendis

July 21, 2008 13:59 IST



Unlocking the Ajantha Mendis code on Sri Lankan pitches will not be difficult for Indian batsmen if they concentrate on his wrist movement, feels Test great Gundappa Viswanath.

Having excelled against Australian John Gleeson -- another mystery spinner who flummoxed batsmen with his odd grip -- in his 1969-70 debut series where he came up with a second innings century in his maiden appearance, Viswanath said taking on Mendis in the upcoming Test series won't be difficult once the Indian batsmen carefully observe his wrist movement.

"You've got to pick him [Mendis] up at the time of delivery. Our batsmen need to observe Mendis's wrist and finger movements at the time of delivery...then he'll become easier to negotiate," the 59-year-old said on the sidelines of a Delhi District Cricket Association (DDCA) function in New Delhi on Monday.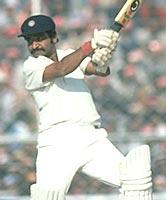 Recollecting his famous debut against the Australians in the November, 1969 Kanpur Test where he scored a first innings duck before coming up with an exquisite 137 in the second innings, Viswanath said, "I had heard a lot of things about Gleeson...that he's very tough and difficult to play against before going in to bat in my first Test. But in the first innings, I didn't get to face him as I got out to [Allan] Connoly. 
"But I faced him [Gleeson] in the second innings. I carefully saw Gleeson's wrist movement at the time of delivery and he became predictable, as I could easily score runs against him -- even scored five or six boundaries against him," Viswanath said.
Refusing to compare Mendis with fellow Lankan spin wizard Muttiah Muralitharan, Viswanath said, "It's too early to compare Mendis with somebody who has 700-plus Test wickets in his kitty. Eight-ODI-old Mendis is yet to play a Test," remarked the veteran of 91 Tests and 25 one-day Internationals.
Asked his opinion about the controversial 'switch hit' tactic used by England's [Images] Kevin Pietersen [Images], the master batsman said it's not "advisable".
"I won't advise the youngsters to switch hit but if somebody [like Pietersen] wishes to play the shot, and is doing it with finesse, he is free to play. I'm not against it either," Viswanath said.
Pietersen hit two sixes after changing his stance to left-handed against New Zealand [Images] in a one-day international and experts are still divided on whether the shot was in keeping with the spirit of the game.
On the ICC's [Images] referral system, Viswanath said the experiment is good for the game.
"It's a nice initiative. I'm hopeful that it will take off during the India-Sri Lanka series."
© Copyright 2008 PTI. All rights reserved. Republication or redistribution of PTI content, including by framing or similar means, is expressly prohibited without the prior written consent.

Email |
Print | Get latest news on your desktop