Home > India > Cricket > Stars We Spotted


Spotted: Indian cricketers in Melbourne

February 15, 2008



Reader Parswanath sent us these pictures from Melbourne.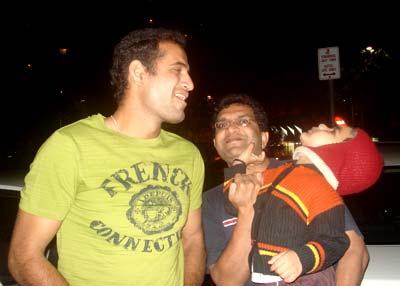 'Our family (Parswanath, Shilpa and Ronak) spotted few cricketers (Dhoni [Images], Uthappa, Irfan, Ishanth, Munaf, Raina and Gambir) in Southbank, Melbourne, a day before the India vs Australia CB series match on 9th February 2008.'
'It was a dream come true and we were delighted,' writes Parswanath.
Thank you, Parswanath, for sending these photographs!
If you encounter your favourite cricket/sports personalities, please mail the photograph or video to sportsdesk@rediff.co.in. We will feature the best images or videos right here on Rediff Cricket or Rediff Sports.
- Also see: More Reader photographs