Home > Cricket > Stars We Spotted


'Rahul Dravid's so friendly!'

October 31, 2007

Reader Brishty sent us this picture from Bangladesh.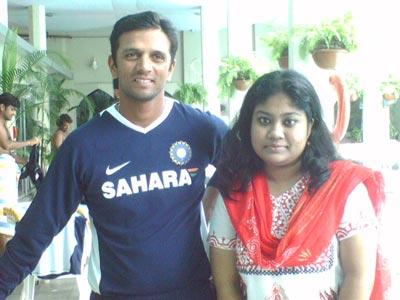 'I'm a student and a big fan of Rahul. I met Rahul at the Hotel Sheraton in Dhaka during the India's tour of Bangladesh.
'I went to the hotel with my cousin who learns swimming there. After practicing, the Indian players came there to swim. I was going to leave but when I got to know that the Indian players are there, I just ran to the swimming pool and saw Rahul sitting on a chair, talking to may be Wasim Jaffer. I walked to him and said that I'm a greaaaaaaaaaaat greaaaaaaaaaaaaaaaaaat fan of him. I was amazed to meet him. He's so friendly!
'I talked to him and took his autograph. I took a picture with him too which I'm sending you. This is the most valuable thing I have in my life. And the biggest asset of my life is the autograph which he gave me. It is still hard for me to believe that Rahul spelled my name correctly!
'There was Sachin, Sourav, Dhoni [Images], R P Singh and almost all the players of the team there but I couldn't notice everyone because my most favorite player was standing in front of me. I couldn't realise that I should talk to the big stars like Sachin and Sourav too because of Rahul. It was the most memorable day of my life. I said it to Rahul too. He smiled and said, "Oh, really?,' writes Brishty.
Thanks Brishty for sharing this photograph!
If you encounter your favourite cricket/sports personalities, please mail the photograph or video to sportsdesk@rediff.co.in. We will feature the best images or videos right here on Rediff Cricket or Rediff Sports.
Also see: More Reader photographs