Home > Cricket > Stars We Spotted


Spotted: Dhoni and Uthappa in Johannesburg

October 22, 2007

Reader Sheron Vishwambaran sent us this picture from Johannesburg.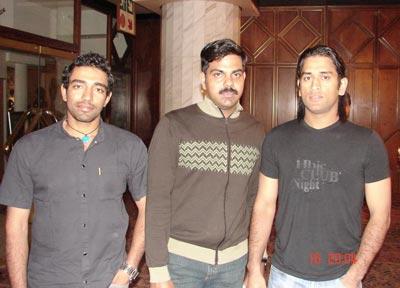 'I am Sheron Vishwambaran. I was lucky enough to catch up with Robin Uthappa and Mahendra Singh Dhoni [Images] at Johannesburg, South Africa, at the hotel in which they stayed. They were very friendly and spoke to us a lot about Cricket, Travel, India, etc,' writes Sheron.
'We wished them Good luck and Hurray, we won the 20-20 World Cup!!! I would like to share this snap with rediff viewers.'
Thanks Sheron for sharing this photograph!
If you encounter your favourite cricket/sports personalities, please mail the photograph or video to sportsdesk@rediff.co.in. We will feature the best images or videos right here on Rediff Cricket or Rediff Sports.
Also see: More Reader photographs