Home > Cricket > Pakistan's tour of India 2007 > Report


Dravid unhappy with sightscreen height

Harish Kotian in Kolkata | November 28, 2007 15:15 IST
Last Updated: November 28, 2007 17:57 IST



India's batting mainstay Rahul Dravid [Images] is known to be a perfectionist. Hence, it came as no surprise when he found a chink in the position of the sightscreen at the B C Roy Clubhouse end of the Eden Gardens in Kolkata.

Having arrived at the ground earlier than his team mates for net practice on Wednesday, the former India captain seemed a bit bothered by the height of the sightscreen.

The height of the sightscreen at the B C Roy Clubhouse end, or pavilion end, is less than that at the opposite end.

However, Dravid said it is merely a suggestion on his part and up to the authorities to decide on the same.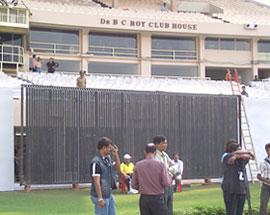 "It is not only that Dravid wants to increase the height of the sightscreen. Don't go and tell everyone that I have told you to do it. You take the views of Sachin Tendulkar [Images] and Anil Kumble [Images] also on it," he told the ground authorities.
Also, the fact that the seats in that stand are just above the batsman's eye-line, it could be disrupting, especially if spectators move between an over from that end.
But increasing the height of the sightscreen could turn out to be a big problem for the Cricket Association of Bengal. The seats at that end provide the best view in the ground and, therefore, could be highly priced. Thus, covering that area would mean loss of revenue.
Dravid, meanwhile, had a suggestion for the authorities.
"You know some grounds in England [Images] have those white transparent sightscreens. For the batsman it looks completely white, but the spectators behind it also can view the action without any problem," he said.
That suggestion got the authorities busy, deciding whether to increase the height or bring the sightscreen forward.
One hopes better sense prevails and player comfort gets the priority over anything else.
Photograph: Harish Kotian