Home > Cricket > Stars We Spotted


Spotted: Shaun Pollock in Chennai

June 22, 2007

Reader Sandeep Kulkarni sent us this picture from Chennai.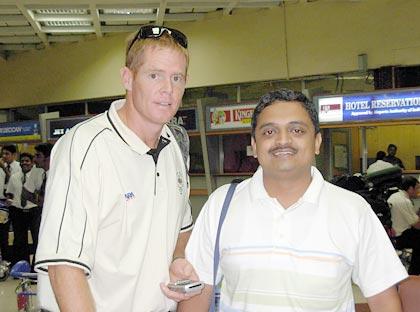 'Here is a photograph featuring the great fast bowler Shaun Pollock [Images]. I met him at Chennai airport on June 8, 2007, the day after the first Afro-Asian Cup match in which he scored a fabulous hundred,' writes Sandeep.
'I congratulated him for his century and at my request he generously agreed to pose with me. I am an IT professional working with a leading IT company in Pune and I was on a business trip to Chennai. A friend, who accompanied me on this tour, took this snap.'
'It will be my pleasure to share this photo with Rediff readers.'
Thank you Sandeep for sharing it with us.
If you encounter your favourite cricket/sports personalities, please mail the photograph or video to sportsdesk@rediff.co.in. We will feature the best images or videos right here on Rediff Cricket or Rediff Sports.