Home > Cricket > Stars We Spotted


Spotted: Richard Hadlee and Kapil Dev

February 27, 2007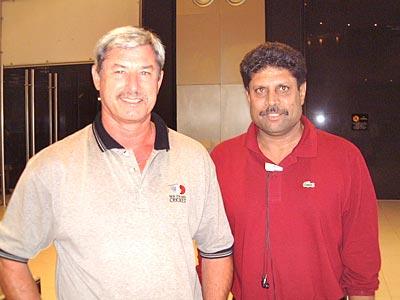 In a career spanning February 1973 to July 1990, Sir Richard Hadlee snared a then world-record 431 Test victims in 86 appearances for his native New Zealand, at an average of 22.29. He also played 115 ODIs, bagging 158 wickets at 21.56.
For his exploits, the Kiwi quick was named Wisden Cricketer of the Year in 1982; in 1990, he was knighted for his services to the game.
Kapil Dev, in a career that lasted from October 1978 to October 1994 - fittingly for the man who led India to its only World Cup triumph, in 1983, his career began and ended with ODIs - bagged 434 Test victims in 131 Tests, taking over from Sir Richard the mantle of highest wicket-taker in the longer form of the game, at an average of 29.64. In one-dayers, his 225 appearances resulted in 253 wickets at 27.45.
India's premier all-rounder was named Wisden Cricketer of the Year 1983.
Between them, they have 411 one-day international wickets, and 865 Test wickets. Their exploits guarantee them top-table seats at any gathering of the best all-rounders the world of cricket has ever known.
Thus, when the two cricketing greats bumped into each other at Johannesburg airport, it was a photo-op too good to miss. Lady Dianne Hadlee clicked - and, as the countdown begins for the next edition of the World Cup, shares her treasured pic with Rediff readers.
We were saving the best bit for the last: During World Cup 2007, Sir Richard will write a series of columns exclusively for Rediff.com. The icing on the cake: he will appear on live chat, to interact with Rediff readers, during the competition - and share his thoughts via audio feeds.
Watch this space, for a full schedule of Sir Richard's columns and live appearances.
Pic courtesy: Lady Dianne Hadlee
If you encounter your favourite cricket/sports personalities, please send your photograph to sportsdesk@rediff.co.in. We will feature the best images right here on Rediff Cricket or Rediff Sports.