Home > Cricket > Stars We Spotted


Spotted: Andrew Symonds in Melbourne

February 05, 2007

Reader Goutam Das sent us this picture from Melbourne.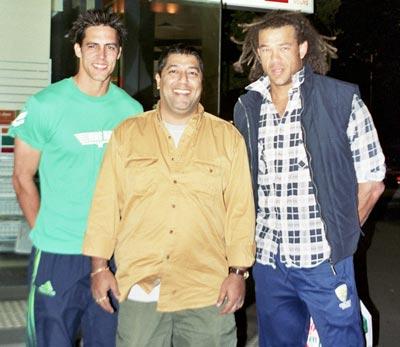 'Here is a picture of me with Andrew Symonds (right) and Michael Johnson (left) outside 7-Eleven store in Melbourne city in the evening after the first day's play of the Boxing Day Ashes Test match,' writes Goutam.
'I had gone to buy milk for my 3-year-old son when I saw the two of them buying junk food (cookies, ice cream, etc) from the 24-hr 7-Eleven store. I requested them to pose for a picture with me and they happily obliged. I was lucky that my wife was in the car with the kids as we were returning home from a long weekend trip, and hapenned to have the camera with us,' added Goutam
He scored 156 the next day. May be I was his lucky charm!!!! I was again lucky to have had lunch at the same table with Glen McGrath, Stuart Clarke, Andrew Symonds and Mike Johnson when the team returned to the MCG for the one-day game. This time I was having a regular work day lunch and didn't have the camera on me. But I realised that since there are so many athletes and sports personalities in Melbourne, people don't really get excited when they see the players in public places.'
If you encounter your favourite cricket/sports personalities, please send your photograph to sportsdesk@rediff.co.in. We will feature the best images right here on Rediff Cricket or Rediff Sports.