Home > Cricket > Stars We Spotted


Spotted: Glenn McGrath in Sydney

December 13, 2007



Reader Pradeep Tiwari sent us this picture from Sydney.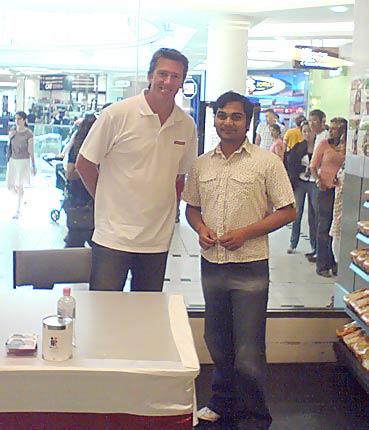 'I met with Glenn McGrath in Sydney while he was in the Woolworths retail shop promoting some food brands,' writes Pradeep.
'Very gentle in behavior he honoured many of his fans by posing with them for photographs. The interesting thing was that there were more Indian fans than Australians. Since this was a surprise to the people shopping there, most of us took his autograph on the dollar notes :) and he was happy signing 'so much money' that day!!
And man, he is so tall.'
Thank you Pradeep for sending this photograph!
If you encounter your favourite cricket/sports personalities, please mail the photograph or video to sportsdesk@rediff.co.in. We will feature the best images or videos right here on Rediff Cricket or Rediff Sports.
Also see: More Reader photographs