Home > Cricket > Pakistan's tour of India 2007 >First Look


Ganguly returns to Kolkata amid frenzy

December 13, 2007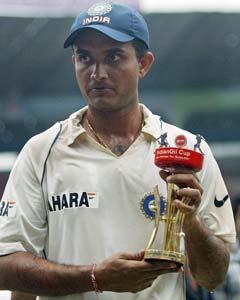 Sourav Ganguly [Images] returned to Kolkata late Wednesday night amid chaotic scenes of euphoria.
- 3rd Test: Report | Score | Images
Ganguly, who crowned his regal return to cricket this year, with a Man-of-the-series performance against Pakistan was received by hundreds of fans, who went into a frenzy seeing their favourite son of the soil return home.
- Sehwag selected for Australia Tests
The CAB authorities had also come to receive Ganguly with a garland and tri-colour, but they could not complete the presentation as all hell broke loose as soon as Ganguly appeared from the VIP gate.
Ganguly was whisked off in his car that had a sizable convoy with it.
Photograph: Sourav Ganguly with the man of the series trophy/ Getty Images