Home > Cricket > Interview


The Rediff Cricket Interview / Mervyn Dillon

'I was one of the biggest underachievers'

December 05, 2007


| | |
| --- | --- |
| Mervyn Dillon | |
| | |
| | |
| | |
| | |
| | |
| | |
Mervyn Dillon is one of the few good fast bowlers who have emerged from the West Indies [Images] in recent years.
Tall and endowed with a powerful physique, like many of his fearsome predecessors, he appeared capable of scaling dizzy heights, especially when young and at the peak of his prowess, but did not.
Nevertheless, considering his chequered international career, his record in both Tests and ODIs is more impressive than many members of his tribe across the cricketing globe, not just on the Caribbean.
Dillon granted Haresh Pandya an exclusive interview on the eve of the Indian Cricket League tournament at Panchkula near Chandigarh.
You haven't been around, nor in the thick of action, for quite some time now. Have you decided to stop playing international cricket?
Well, I haven't called it a day! Not yet. It's a bit touchy. I've still a lot of cricket in me. I'm still available for the West Indies. It's all but over. Events like the ICL here and Stanford competition back home have given me an opportunity to continue playing and there is no reason why I shouldn't enjoy that. 
Is it due to frustration, or at not been considered for the West Indies any longer, that you have joined the ICL?
Not really. I'm a very realistic person. I tend to accept life as it comes. You've your ups and downs. Life is like that. It's the understanding that the people in charge of West Indian cricket pick the best possible team. And they've been doing that. So even if I'm not involved with the West Indies team, it's all right. Life goes on. I'm still very fit in body and mind and the ICL and Stanford tournaments are ideal for me. 
You bowled many good spells for the West Indies. But taking into account your genius, one is inclined to believe that your best has never been seen on the international stage. What is your personal assessment?
 I agree with you. I'll always be the first to admit that my best has never been seen in international cricket. I remember talking to Steve Waugh and he said that I was one of he biggest underachievers in terms of cricketing talents and resultant performances. Of course, I've always played true to my potential during my career. But I don't want to offer any excuses as to why I didn't do full justice to my talents. Of course, there're a lot of things happening in and around West Indian cricket and that's how it ended up. But I think my best cricket is yet to come. Though I'm 33, I don't think I was fitter than today in my life.
But why hasn't your best come out yet?
I think I should have tried harder at times. There is no question about that. But again this isn't an excuse. I've myself to hold fully responsible for what I've achieved and what I haven't. I always tried to give my best regardless of the events off the field.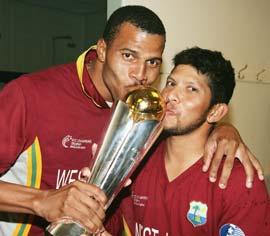 How was it playing under different captains?
It isn't so important for me to have played under different captains. It's not a big issue. My job is to go out there and perform, and take as many wickets as I could, irrespective of who leads the team.
Unfortunately, the system in the West Indies isn't the best in terms of infrastructure. The things aren't being done ideally. There is no professionalism in our players.
And it shows up in our cricket there. We've abundance of talent but for some reasons we aren't as consistent as we should be. And consistency comes only when you've a proper system that encourages the players. Also, there is no substitute for hard work and ruthless professionalism in contemporary cricket today.
As a fast bowler, did you miss someone at the other end to complement you? Did you have good support from other fast bowlers?
Well, when you look back, one of the players I did very well with was actually a spinner, Dinanath Ramnarain, who was also from my country. But if you look at that particular history, almost every time I was opening the bowling with someone else. Was it a good thing? I don't think so. I think we looked for too many quick fixes as the years went by.
And too much chopping and changing meant that the guys never got a chance to really settle down. You came in the team and started wondering whether you would be there in the next match or the next series. It put a lot of pressure on them.
There was a time when the West Indies used to produce a plethora of express fast bowlers with frightening regularity. Why is it that not many quality pace bowlers are emerging from the Caribbean?
There are a number of issues. There is so much cricket being played in the world and, like I said, the West Indies has been sort of left behind in terms of modern era of the game and how things are done at the international level. There is a whole science behind the game in the modern era and everybody is moving forward. But we are one of the teams that is lacking in all these things.
Look at Australian cricket and the Australian team. Look at their domestic cricket and their structure. They put just professional players. We've a lot of talent but how professional these guys are is a question. If we nurture that talent with a totally professional attitude, I think we'll get more consistent performances from the players.
Aren't more and more youngsters in the West Indies preferring basketball and other professional sports to cricket, and going to the USA?
No, no. I totally disagree with that. Cricket is still the biggest sport in the Caribbean. There is no question about that. Yes, we aren't what we used to be, a lot is lacking in the West Indies, but still more and more youngsters are coming forward to play and take up cricket. This is an encouraging sign.
But people are discouraged by the domestic structure and the way cricket is being run in the West Indies. A lot could be done to improve the standard of cricket, not just in the West Indies, but in many other countries.
You have played with some of the greatest cricketers of the modern era, including Brian Lara [Images]. Did you ever imagine, when you started playing cricket, that you would be rubbing shoulders with them?
It's a dream come true for me. I said it very early in my career that I never thought it was possible for me to play cricket for the West Indies. But it happened. And I played with some of the best players in the world, including Brian Lara, Courtney Walsh [Images], Curtly Ambrose and Ian Bishop -- to name only a few. And I've also played against some of the best players in the world. So it's really a dream come true for me. My only regret is that I didn't justify my own talent the way I should have.
Could you name some of the finest batsmen you came across as a fast bowler?
Talking about the best batsmen, you had Sachin Tendulkar [Images], Rahul Dravid [Images], Jacques Kallis [Images], Adam Gilchrist [Images] and Matthew Hayden [Images]. All of them top players. It was always a pleasure playing against them.
If given an opportunity, would you like to serve West Indian cricket in some capacity?
Definitely. In fact, it's one of the things why I'm in the ICL. Cricket has given me a lot. It has given me everything. And I want to pass on my knowledge to the youngsters. I'm thankful to the game for whatever I'm today. Who will be thankful to the game?  
Will the West Indies ever regain past glory in cricket?
I think so. I think we are going to get people who understand the game. Cricket is no longer a sport; it's a business. It has to be run that way. I think the Stanford competition is a brilliant idea. I think it's something the West Indies Cricket Board should look forward to. It's well-planned, organised and thoroughly professionalised.
More Interviews