Home > Cricket > First Look


Muralitharan reclaims world record for Test wickets

December 03, 2007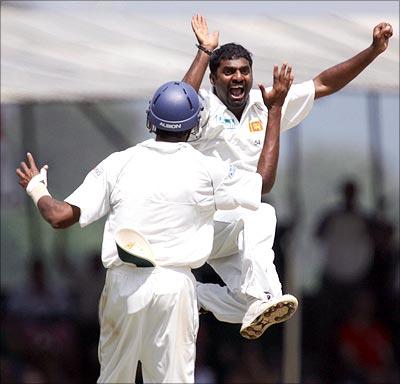 Sri Lanka off-spinner Muttiah Muralitharan reclaimed the world record for the most Test wickets during the first Test against England [Images] on Monday.
Muralitharan, 35, broke the previous record of 708 wickets, held by retired Australian leg-spinner Shane Warne [Images], when he bowled Paul Collingwood [Images] for 45 shortly before lunch on the third day.
Muralitharan had previously held the record in 2004, when he broke West Indian fast bowler Courtney Walsh's [Images] mark of 519 Test scalps.
He was overtaken by Warne later that year.
Muralitharan has said he hopes to take 1,000 Test wickets before he ends his career.
On Sunday, Day 2 of the Test, he claimed 4 for 30 to equal the record, after ripping through England's top order and reducing the tourists to 186 for six shortly before tea when rain washed out play for the day.
Cheered on by home supporters, Muralitharan claimed the four wickets he needed to draw level.
Muralitharan factfile
Born: April 17 1972, Kandy
Test debut: 1992 v Australia in Colombo.
Tests: 116
Wickets: 710
Five wickets in a Test innings: 61 times
Ten wickets in a Test match: 20 times
Was called for throwing by Australian umpire Darrell Hair in 1995, triggering a continuing debate about the legality of his unusual action.
Was called again on a 1998-99 tour of Australia but was cleared of any wrongdoing after scientific Tests proved his innocence.
Broke West Indian Courtney Walsh's world record of 519 Test wickets in 2004 before injuries struck, forcing him to take an extended break from the game.
Loses his world record to Shane Warne later that year but reclaims it in 2007 after the Australian leg-spinner retires with 708 Test wickets.
Muralitharan also holds the world record for the most international wickets (combining Tests and one-dayers) as well the most 10-wicket hauls in a Test match and five-wicket hauls in an innings.
Muralitharan celebrates after dismissing England batsman Paul Collingwood (not in pic).
Photograph: Deshakalyan Chowdhury - AFP/Getty Images