Home > Cricket > India in the United Kingdom 2007 > Interview


The Rediff Cricket Interview / Zaheer Khan

'Bowling in short spells has worked for me'

August 09, 2007


| | |
| --- | --- |
| Zaheer Khan | |
| | |
| | |
| | |
| | |
| | |
| | |
Since making a smashing entry into international cricket at the ICC [Images] knock-out tournament in 2000, Zaheer Khan [Images]'s career witnessed a few swings. A string of consistent performances early on and he was touted as India's best pace hope, expected to lead the attack into the new century. But injuries and poor form saw him being dropped from the team in 2005-'06, after a particularly disastrous tour of Pakistan.
A season in the English County circuit in 2006, during which he claimed 78 wickets for Worcestershire, made him a better and fitter bowler. The 28-year-old was immediately back in the Indian team for the tour of South Africa, late last year, and since then hasn't looked back. He carried on the good form with a consistent showing right through the 2007 World Cup and then in Bangladesh. In the ongoing Test series against England [Images], he has already claimed 15 wickets in two matches.
After the triumph at Trent Bridge, the left-arm seamer spoke exclusively with Special Correspondent Harish Kotian.
Part I of the interview:
Is it true that the jellybean incident inspired you in the Nottingham Test?
Not really, it just happened! It is past now. But to get wickets you need to bowl well in the right areas, get the ball to swing and at a good pace. It is all part and parcel of the game. It [jellybean incident] is history now; we are focused on the Oval Test.
How upset were you about the jellybean incident? There was a particular instance, when Sreesanth's [Images] shot hit Ian Bell [Images], who was fielding at short leg, on the helmet and you told him not to talk to him. Tell us about that.
As I said, there are things that happen on the field for which you don't plan. You only plan how you gonna go about your bowling and other stuff. Everything does not go according to plan, but you got to respond to things that happen when you go along.
Sourav Ganguly [Images] has said that this is the best bowling attack to come to England. Do you agree with him?
I have been playing since the last 5-6 years and I have definitely seen fast bowling standards improve. People tell me that fast bowling is coming up, and ask how I feel about it. I always say that it is good for Indian cricket. It is very important that fast bowlers should come from India, because we always have been producing top quality spinners. We definitely produced good, quality fast bowlers, but they were short in numbers. If you look at the last years 7-8 years, we have had very good fast bowlers and they have been bowling together; so it does make a difference.
The rise, fall and rise again of Zaheer Khan
Before the England series Dravid had said that he expects you to be the mentor to the other bowlers. How comfortable are you with the role?
I hope I am doing justice to the role. [smiles]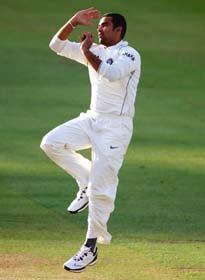 How do you rate this Indian attack? Did you enjoy bowling with someone like Javagal Srinath or these bowlers?
You have to perform as a team; you have to perform as a unit. It is not just only fast bowlers that win you matches, but spinners also. So you have to click as a unit. Right now we are clicking as a unit.
If you see, Anil Kumble has taken six wickets [in the second Test], which is a great achievement for a spinner to come and pick wickets [on the Trent Bridge pitch]. Of late, we have had quite a lot of overseas wins. So we are clicking as a bowling and batting unit; it is a team game anyways.
What went wrong in the first hour of the Lord's Test? What lessons did you take from it?
Definitely, there were some nerves. When you don't start well there is some pressure on you, the whole mindset changes. After a bad first hour the pressure was on us to sort of pull it back and we did a great job. Right through the day, after the first hour, in the remaining five-and-half hours, we did a very good job in restricting England, and getting wickets like we did the next morning. That's how things change in cricket. If you hold your nerve, and stick together, things work for you.
In this series you are making a conscious effort to pitch the ball up and make the batsmen play.
Everyone knows that in English conditions you pitch the ball up. But, again, you need to get it in the right areas. By pitching the ball up you can sometimes be hit for a boundary if you don't get it right. It also depends on whether the ball is swinging or not.
But I do look to bowl bouncers; I bowled quite a few bouncers in the last match as well. But there is no such planning that I am going to bowl a certain number of bouncers. It all depends on the match situation and how the wicket is playing.
How much difference has bowling coach Venkatesh Prasad made?
His experience has definitely helped the team. Right now both Venky [Prasad] and Robin [Singh] are in charge of the net sessions. With Venky coming in, the bowling strategies are different. We sit as a unit and plan things differently. It has been a great help to all the young bowlers -- for people like Ishant [Sharma] and [Ranadeb] Bose. During the tour itself I have seen a great improvement in them. Venky spends hours with them in the nets. I am sure he is doing a good job.
How is the team ensuring it retains the same intensity and focus in the third Test? In the past we have seen the team slipping from such a position.
One thing is sure: when you go one-up in the series, with the last match to go, you know that you are not going to lose the series. Thus, the pressure is on them. It is up to them whether they are going to draw the series or lose it. We have got nothing to lose. We will just try and give our best, go in with a positive frame of mind and look to play positive cricket.
In the second Test match the batsmen were caught off-guard with the in-swinging delivery that you bowl with the same action. How much hard work has gone into getting that particular delivery right?
It is all to do with your rhythm. If your rhythm is good, you are able to bowl the ball wherever you want. Whichever delivery you want to repeat, you can. That's what good rhythm is for me; you need to keep on bowling for that. That's why I don't want to give myself a long break from cricket and bowling.
You seemed to have enjoyed bowling to Michael Vaughan [Images]. What's the secret?
When I am bowling I am just focused on my bowling rather than seeing who the batsman is and what he is looking to do. England rely a lot on [Kevin] Pietersen and [Michael] Vaughan, so you know that if you get them out early you have a chance; that is what we were looking to do.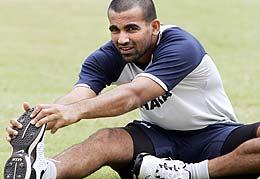 How would you advise someone like S Sreesanth, who is going through a rough period? The English media is all over him; some even want him banned for the next Test.
He has got tremendous potential. He is young and into the early part of his career where you make mistakes and learn from it. He is a very positive influence in the team in terms of aggression. I am sure he will do well.
On Day 4 at Nottingham, all the Indian bowlers kept plugging at the English batsmen and there was no lack of intensity. What was the plan?
Normally when you are in a situation like that you look to give your best. We knew how important a win would be; we knew that going 1-0 up in the series was the key after what happened at Lord's. We, obviously, were looking to give our best in whatever we did and we were successful in that.
The start that Wasim [Jaffer] and Dinesh [Karthik] gave us proved to be very important. Once you have things happening like that, obviously, everyone is upbeat. Everyone knew we were going to do it. So that belief was always there.
Throughout the series you bowled in short spells; any reason behind that?
It is all the team management's decision. Cricket is a team sport; everyone has to contribute and has a role to play. As a bowler you always need to be at the batsmen. It is the captain who takes the call and we all respect that. It is the best thing that's happened. Working in short spells has really worked for me. By bowling short spells I can give 100 percent and go flat out, then take a break and also be fresh right through the Test match.
How beneficial was coming to Ireland before the Test matches and getting acclimatized to the conditions, which, in a way, are similar to England?
Well, to tell you the fact, nobody wants to remember Ireland, because we really struggled with flu and other things. But it was good to come early and get acclimatized to the conditions.
Part II: 'I was sure I would come back'