Home > Cricket > Stars We Spotted


Sehwag on his honeymoon

September 29, 2006

We recently launched a new feature where we post images of world sportsmen contributed by you Dear Readers.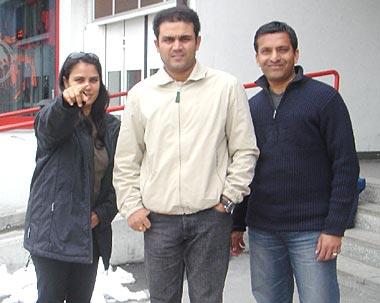 If you encounter/meet/see cricketers or sports personalities and photograph them, please scan the photographs and mail the pictures to us. We will feature the best images right here on Cricket or Rediff Sports.
Reader Dini sent us this picture from Switzerland.
'I am a dedicated reader of Rediff for years now!
'I have 2 important snaps to share,' writes Dini.
'This one is with Veeru (Editor's note: Virendra Sehwag) when me and my husband spotted him in Switzerland with his wife where they had come for their honeymoon. He obliged us with a pic (May 2004).'
So rush those photographs to us!


What do you think about the story?








Read what others have to say:





Number of User Comments: 5








Sub: Not fair at all

Agree with those who think that such photos should not be publicised. There are other ways to make rediff more popular. It's a great site ...


Posted by DF









Sub: Great!

Nice to see Veeru with his head covered by hair....now his form unfortunately is slipping as his hair loss...i hope the trend reverses for the ...


Posted by anthony









Sub: Title gives wrong Info about subject

Title gives the impression that Sehwag is sharing about his Honeymoon experience....


Posted by RAVIKUMAR









Sub: Rediff should not encourage this practice

Making these kind of pics public may not be in good. When a celebrity obliges for a pic, he assumes it will be for personal ...


Posted by asris









Sub: apericiating the site

Hi rediff team Iam a regular reader of rediffmail and i really apericiate the snap of clebrties, this colums are really very beautiful.I enjoy a ...


Posted by Rajeev Joshi






Disclaimer