Home > Cricket > Stars We Spotted


Spotted! Kapil Dev in Malaysia

September 25, 2006

We recently launched a new feature where we post images of world sportsmen contributed by you Dear Readers.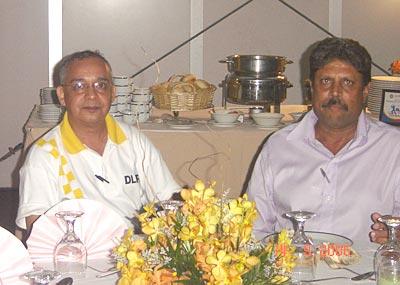 If you encounter/meet/see cricketers or sports personalities and photograph them, please scan the photographs and mail the pictures to us. We will feature the best images right here on Cricket or Rediff Sports.
Reader Sneha Kshrisagar sent us this picture from Kuala Lumpur, Malaysia.
'My dad got to meet Mr Kapil Dev during the India vs West Indies match at Kinrara stadium, Kuala Lumpur,' writes Sneha.
'Dev was having a quiet dinner at the stadium's restaurant (while the match was on hold due to bad weather!).'
So rush those photographs to us!


What do you think about the story?








Read what others have to say:





Number of User Comments: 1








Sub: SRandom dude making money for rediff

Is someone paying these random dudes any money? These guys are stupid to be sending pics of celebrities for free. Rediff is making a killing ...


Posted by asris






Disclaimer