Home > Cricket > Stars We Spotted


Spotted! Yuvraj in Bangalore

September 20, 2006

We recently launched a new feature where we post images of world sportsmen contributed by readers.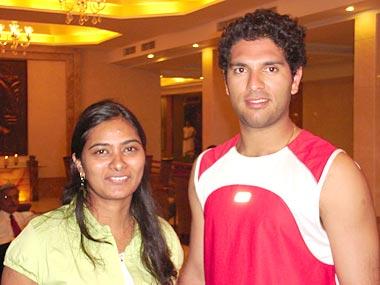 If you encounter/meet/see cricketers or sports personalities and photograph them, please scan the photographs and mail the pictures to us. We will feature the best images right here on Cricket or Rediff Sports.
Reader Shiv Priya sent us this picture from Bangalore.
'Last year when the cricketers were down for a training camp, I got to meet Yuvraj Singh through my husband who was trying to sell a car to him!! :-) This is a pic taken at the lobby of the Ashok Hotel, Bangalore,' writes Priya.
So rush those photographs to us!
Earlier:
Sayak with Gagan Ajit at the World Cup | Murali spotted Dravid in Hyderabad | When Dhoni delighted | Uday catches Paes in New York | Aravinda Madan meets Kobe Bryant | Riyaz and friends with Irfan Pathan | Martin Damm with Babji | Sania in New York | Sandip meets 'God' | Vikram meets Shane | When Rajath met Aravinda


What do you think about the story?








Read what others have to say:





Number of User Comments: 1








Sub: yuvraj spotted in Bangalore

it was lucky


Posted by shajansamuel






Disclaimer