Home > Cricket > Stars We Spotted


Yash visits Sachin Tendulkar

October 27, 2006

We recently launched a new feature where we post images of world sportsmen contributed by you Dear Readers.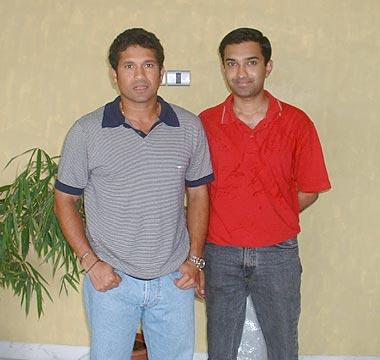 If you encounter/meet/see cricketers or sports personalities and photograph them, please scan the photographs and mail the pictures to us. We will feature the best images right here on Cricket or Rediff Sports.
Reader Yash sent us this picture from Dallas, Texas, USA.
'I have been a huge fan of Sachin Tendulkar for a long, long time. It had always been a real dream to meet my hero... my God... once in my lifetime,' writes Yash.
'On July 12, 2004, I got a chance to meet the man himself! What made the occasion even more special was the fact that I met him at his very own house in Mumbai!!
'I can't thank my grandmother enough for making this happen!! It was a truly amazing experience..so much so that I can barely put it in words! I'm really grateful to Sachin for sparing 5 minutes to meet me. I will cherish those 5 minutes for the rest of my life!!'
So rush those photographs to us!


What do you think about the story?








Read what others have to say:





Number of User Comments: 7








Sub: May not be morphed

To me it looks like the different color between yash's legs is because of a polythene bag he was holding , if you see the ...


Posted by kartik









Sub: Morphed photo

See the space between his leg.... and you can figure it out...


Posted by Shashank









Sub: Yash's visit

Well, I dont beleive in meeting anybody. Everybody is human being and they are playing their role which is assigned to them and they are ...


Posted by Amit Barse









Sub: I pity Yash

Reader Yash has nothing more left to acieve, i pity him!lol


Posted by asris









Sub: Sachin

hey yash you are really the luckiest person. on this earth.I wish i could have been on your place to meet my great sachin. i ...


Posted by daljit






Disclaimer