Home > Cricket > Stars We Spotted


Naren spotted Clive Lloyd in Port of Spain

October 26, 2006

We recently launched a new feature where we post images of world sportsmen contributed by you Dear Readers.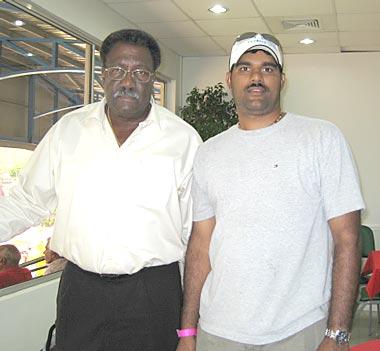 If you encounter/meet/see cricketers or sports personalities and photograph them, please scan the photographs and mail the pictures to us. We will feature the best images right here on Cricket or Rediff Sports.
Reader Naren, who stays in New Jersey, USA, sent us this picture taken along with West Indies great Clive Lloyd in Port of Spain during India's last tour of the West Indies.
'I live in New Jersey, USA. I am a big fan of cricket from my childhood and I had a dream of watching a cricket match live in the stadium so I was lucky to get a chance to visit Port of Spain,' writes Naren.
So rush those photographs to us!


What do you think about the story?








Read what others have to say:





Number of User Comments: 1








Sub: Good Job

I am thanking you all who put my picture with clive Llyod. Wonderful job, Wishes, Naren


Posted by Naren Gadde






Disclaimer