Home > Cricket > Stars We Spotted


Spotted! Barry Richards at Buckingham Palace

October 19, 2006

We recently launched a new feature where we post images of world sportsmen contributed by you Dear Readers.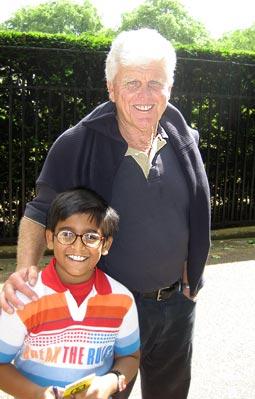 If you encounter/meet/see cricketers or sports personalities and photograph them, please scan the photographs and mail the pictures to us. We will feature the best images right here on Cricket or Rediff Sports.
Reader Sudhendu Shekhar sent us this picture from London.
'We were on a short holiday to London. We went to see the Buckingham Palace. After we got out of the metro, we were walking down towards the palace when my nine-year-old son spotted Barry Richards,' writes Sudhendu.
'We were quite excited to see him. On approach we shared a few words and then he agreed to pose with my son Divyendu Shekhar and here he is 'A LIVING LEGEND.'
So rush those photographs to us!