Home > Cricket > Stars We Spotted


When Lara surprised Sunder and his friends

October 12, 2006

We recently launched a new feature where we post images of world sportsmen contributed by you Dear Readers.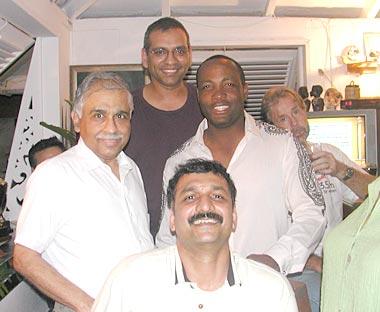 If you encounter/meet/see cricketers or sports personalities and photograph them, please scan the photographs and mail the pictures to us. We will feature the best images right here on Cricket or Rediff Sports.
Reader Sunder sent us this picture from Trinidad, West Indies.
'Kumar, Kushal and me (Sunder) were surprised when Brian Lara walked into the restaurant that we were having dinner at in Woodbrooke, Trinidad,' writes Sunder.
'He obliged us with a picture. He might be feeling elated as he just clinched the ODI series by winning the 4th ODI in the recently concluded India-West Indies series'
So rush those photographs to us!


What do you think about the story?








Read what others have to say:





Number of User Comments: 1








Sub: hai

hai lara this is ravi Iam big fan of sachin ofcourse your fan also ,world have two eyes like a man & have two hands ...


Posted by ravikumar






Disclaimer