Home > Cricket > Stars We Spotted


Spotted! Sunil Gavaskar in South Africa

November 23, 2006

Reader Sudhindra Haribhat sent us this picture from South Africa.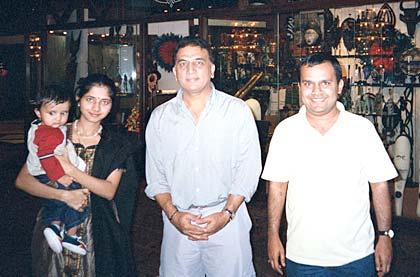 "Here's a picture of my wife (Reena), daughter (Saakshi) and me with the legendary Sunil Gavaskar," writes Sudhindra.
"We met him in Sandton City, South Africa a couple of years ago. He was here for the IIFA awards ceremony."
"When I requested him for a picture in Marathi he was taken aback for a moment, but he immediately said zaroor (sure) with a broad smile and then, voila!"
If you encounter your favourite cricket/sports personalities, send us your photograph on sportsdesk@rediff.co.in. We will feature the best images right here on Cricket or Rediff Sports.


What do you think about the story?








Read what others have to say:





Number of User Comments: 4








Sub: cricket

we should concentrate on cricket niether than concentrate on any other activities like modelling and advertising then only we will win the world cup otherwise ...


Posted by DEEPAK









Sub: message tocricketers

please concentrate on cricket and get good name for india and fans by country sake please avoid to act in adds . we are dissappointed ...


Posted by sreenivas









Sub: Sunil Gavasker

Sunil Gavasker Can you please meet the Indian Batsman and Indian Coach in south Africa and tip them about batting.


Posted by Kanwal Jeet









Sub: I wish Sunny could still be included in the Indian squad

I was quite gloomy about India's dismal persormance in the second one-day International in SA when I saw this photograph of Sunny Gavaskar. He still ...


Posted by Sudhir Bisht






Disclaimer