Home > Cricket > Report


'We need to concentrate on the basics'

Harish Kotian | November 13, 2006 22:07 IST
Last Updated: November 14, 2006 18:07 IST



The Indian team leaves for South Africa in the early hours of Tuesday, well aware of the fact that their record against the African nation is a lot to be desired.

South Africa's bouncy pitches, coupled with the swing generated from them, have seen Indian batsmen struggle to adjust to fast bowling. With just three victories in 16 matches, India's one-day record in South Africa can only be termed as pathetic.

Recent form is also not inspiring and the team even failed to make the semi-finals of the recently-concluded ICC Champions Trophy at home.

However, coach Greg Chappell is confident that his team can adapt well to the conditions in South Africa and produce a decent showing in the five-match one-day international series, starting on Sunday.

India's coach previews the South African tour:

On the bowling combination that could be used during the tour?

It will be difficult to say at this early stage what will be the best bowling combination and it may vary from venue to venue, depending on the conditions. I think we have established in our own mind that where possible we would like to play five bowlers. But it may depend a lot on form, fitness and on conditions at the time. So we will just have to wait and see.

How the team will cope with the absence of Yuvraj Singh?

That's going to be one of the challenges for us. But, obviously, what that throws up, not having Yuvraj, is that somebody else will get some opportunities and obviously that's going to have an important bearing on what sort of final combination we go for. I think within the 16-man squad we have got a number of combinations that we can look at. We have got Anil Kumble, Zaheer Khan back, and we also have got a couple of very experienced campaigners in our squad. So we have got a number of options to pick from.

Adapting to the conditions in South Africa?

The main focus of the first few days of the tour is obviously acclimatising to the conditions, more particularly the wicket conditions, which obviously is the extra bounce and a bit of movement that we are not used to seeing in Indian conditions. So we are going to be focussing on things like we did before the start of the West Indies tour. We sat down and looked at what the key issues would be, what things we will need to do well to be able to succeed in those conditions and then focus on that for our early training on the tour.

It worked for us pretty well there and let's hope we can do something similar in South Africa. Obviously, weather conditions will have a bearing on us, so we are hoping we get some good weather and that we get four or five really solid days to work on some of those issues.

It will really be just getting the bowlers to adjust to the length that they will need to bowl in South African conditions and the batters to get used to the different pace and bounce.

What are the key areas that the team needs to focus on in South Africa?

We just need to concentrate on the basics. By basics, I don't just mean the technical basics; it will also mean the mental basics, knowing what things to focus on and when to focus on them. It will also be knowing what sort of style of cricket we would need to play to be successful in the conditions in South Africa. It will have as much as to do with that as it will be to adjusting to the pace, bounce, movement and things like that.

How the team will cope with the pressure after the recent failures in one-dayers?

There is always pressure on the team and the coaching staff. We got to perform. I think we like that sort of pressure, we like the challenges that are coming in. Personally, I look at this tour as being a great opportunity. That's the way we have to focus on it as far as our team is concerned.

If we go there and look at this as a chance to fail, then there is a good chance we will fail. But if we look at it as a chance to succeed, learn and become a better team, then we will have a much more positive focus for what we are trying to do.

While we were disappointed with the loss in the one-day series in the West Indies earlier this year, in some ways that helped us in the Test series that followed. It helped on focus on things that we needed to do. Often, for a player and even for a team, a setback is actually the start of a new surge forward. I am now hoping the disappointments of the last couple of series will give us the impetus to take some steps forward in South Africa.

I don't think we are as far away from where we need to be as recent results would suggest. We have analysed those results in the last week or so and I think out of the last nine games that we lost, four were lost in the last over. We got the highest score in the tournament in Malaysia, but lost that game via the Duckworth-Lewis method.

We got the highest score against Australia in the Champions Trophy, but they played well and managed to chase that target down. So we have got some positive to work on and I think we need to build on those positives.

On the challenge of playing on the faster wickets in South Africa?

The good thing about going from low and slow wickets to bouncy wickets is that you get a wider range of options for the batsmen. Even as a bowler there are different ways to get batsmen out. I think the thing that we did well in the West Indies was adjust to the right length to bowl on those conditions. That's what we have to do from a bowling point of view in South Africa.

From a batting point of view, it is understanding the different shots available to you, understanding the difficulties that might be presented by a little bit of extra bounce. But we have got some experienced players; particularly the top order and all our senior players have been to South Africa and have made runs there. They have made runs in Australia, so I don't think it is going to be a huge problem for us.

On criticism that your experiments are not working?

I think a number of things we tried have worked very well. It is not necessarily about trying right at this moment, but we identified it around 18-20 months ago. When I first started in this job, I looked at the World Cup as being the point that we are aiming it. Obviously there are some steps along the way that we had to go through to get there. We are probably two-thirds of the way down that track. At the moment we have identified the types of players that we needed, the combination of players that we needed and the amount of experienced players and young, enthusiastic players that we would need when we get to the Caribbean next year. I think the opportunities and the experiences that we offered to lot of these players would stand in good stead.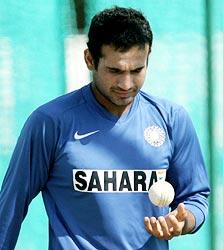 On Irfan Pathan, who is facing a lot of flak for his recent string of failures?
Irfan Pathan is someone who comes under a lot of criticism. He is just 22 and I have never seen a champion all-rounder at 22 years of age. It normally takes them longer than that.
You look at Australia for instance. They have got Shane Watson, whom they have been working for four years now and he is around 25 or 26. Someone like Michael Hussey whom they brought into the team in recent years played around 300 first class games before he played international cricket. You are talking about a different developmental programme between the two countries.
I think most of our guys are pretty well on track where we need them to be at this stage of their career they are at. We went to the West Indies with three or four fairly inexperienced bowlers. I am not sure if we would have won the series in the West Indies with the bowling attack that we took to Pakistan for instance. We went for a lot more variety, we tried to get some bounce into our attack and it worked very well for us in the West Indies. The developmental process that we have undertaken is working and it is falling into place. Obviously we would love it to work overnight, but you look at the England team that won the Ashes back last year. It took them five years to put that bowling attack together.
On Kapil Dev and Imran Khan's recent comments that Indian bowling attack is very weak and that they can't even think of winning the World Cup with such an attack?
The only way we can change that perception is by giving the players more opportunities and more experience to develop. Each one of the bowlers that bowled in the game against Australia [in the ICC Champions Trophy] had only played a handful of games between them and it is not a great deal of experience. I respect the opinion of the people that you mentioned there. They are all experienced cricketers and they know what they are talking about. But they don't know what work is going on behind the scenes and they don't see what options there are for us. I am not critical of them, they are entitled to their opinion, but I am not as pessimistic as them.
On the idea of not having a conditioning camp before the South Africa tour?
We have had a lot of cricket in the last couple of years. Sometimes the best thing you can do is to have a break. We tossed up what the options were there in this period. We haven't had a lot of cricket in the last couple of months. It has been quite a frustrating period with the Sri Lankan series being washed out and the Malaysian series was a bit messy with the weather as well. But one thing I do know from personal experience is that the best thing that you have from time to time is a break, certainly have a mental break to refresh yourself, to step back a little back from cricket and reflect on what's been happening for you as individual and as the team.
It's good for the coaching staff too to step back a little bit to just review where we are at and what we need to do in the next little bit of time. We may be rusty, but then again we might just be jumping out of our skins before we get to South Africa because of the break and start to be a bit fresh and play some good cricket. That's what we are hoping for.
On how the team is trying to peak at the right time before the World Cup?
We are not going to try and play bad cricket just to set ourselves as underdogs for the World Cup. We set ourselves to do as well as we can in each series. The team that wins the World Cup will be the team that plays the best in the tournament. It won't be the team that is playing the best now or the team that plays the best a month before the month. India arrived in the 2003 World Cup probably in the worst form that they had been in for some time. They lost the practice match before the World Cup, but they started to win some games, the momentum swung their way and they made it to the final.
There is no guarantee that the team that is number one in the world at the start of the World Cup next year will win it unless they play well during the World Cup. That's what we are aiming for, but in the meantime we have other tournaments to play and we are endeavoring to do well in each of those tournaments.
But in the back of the mind there is still the big picture that we started with twenty months ago that said this is what we need to look like when we got to the World Cup; these are the things that we need to do well when we get to the World Cup. And quite a few months out we are getting to that point.


What do you think about the story?








Read what others have to say:





Number of User Comments: 32








Sub: Basics

The basic means the system,- how to remain strong in position without performance,to stay great bhakt to the administration. Basic means kho kho,strange experiments etc ...


Posted by chinmoy









Sub: We need to concentrate on basics

We needed to do basics correct right at inception. Now the things are gone wrong to such an extent that we need to get to ...


Posted by kanwal Jeet









Sub: Greg Chappell

Difficult to say,but getting the basics right has always been a problem in Indian Sport.Maybewe need these foreign coaches to raise these issues otherwise we ...


Posted by Paddy Nair









Sub: i just want to ask

I have always been told from my childhood and expererienced the same that " strong things build on strong roots" with this kind of experimentation ...


Posted by sripathi









Sub: Ganguly

I think, we should bring in ganguly for the world cup team. His experience, talent and killer instinct will certainly help the team to win ...


Posted by girish






Disclaimer