Home > Cricket > Stars We Spotted


Spotted! Bucknor in Amsterdam

November 07, 2006



Reader Kishore sent us this picture from Amsterdam.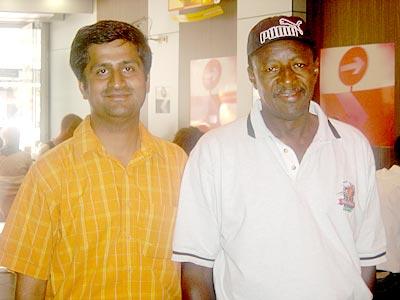 'This picture was taken in 2004 at Amsterdam, where India, Aus and Pak were playing a tri-series,' writes Kishore.
'My friend Ajay Joshi and I met Mr Steve Bucknor at the McDonald's outlet in Amsterdam. With some hesitation I went and asked him, "Can we take a picture with you?" Pleasantly surprised, Mr Bucknor replied "With me?"'
'When we said "Yes, Mr Steve Bucknor", he nodded in trademark Bucknor style (the way he nods while declaring a batsman out!!) and posed with a smile for this photo.'
If you encounter your favourite cricket/sports personalities, send us your photograph on sportsdesk@rediff.co.in. We will feature the best images right here on Cricket or Rediff Sports.