Home > Cricket > Stars We Spotted


Sehwag on Shravan's 25th birthday

November 06, 2006

We recently launched a new feature where we post images of world sportsmen contributed by you Dear Readers.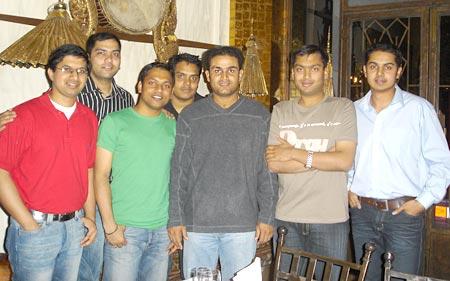 If you encounter/meet/see cricketers or sports personalities and photograph them, please scan the photographs and mail the pictures to us. We will feature the best images right here on Cricket or Rediff Sports.
Reader Bachuwar Shravan sent us this picture from London.
'It was on my birthday that we all went to our favorite Thai restaurant along with my friends in Trafalgar Square, London, last September where we met Sehwag,' writes Shravan.
'I was so happy that on my 25th birthday I was greeted by none other than our own Viru. He agreed to spare some time with us and he wished me and shook hands with all of us.'
From left: Dileep, Imran, me, Venkat, Viru, Rishi and Amit.'
So rush those photographs to us!


What do you think about the story?








Read what others have to say:





Number of User Comments: 3








Sub: Feet movement

Mr Srawant, Ask your Sehwag Move his feet other wise he has move out of the team.


Posted by sharma









Sub: nice one

Nothing eles r cricketers can do bsides poseing in front of the camera Keep it up viru great goin


Posted by chetan patil









Sub: nice Picture

Its nice to see the picture


Posted by paulachinthpaul






Disclaimer