Home > Cricket > Stars We Spotted


Puneet meets his Indian heroes

November 02, 2006

We recently launched a new feature where we post images of world sportsmen contributed by you Dear Readers.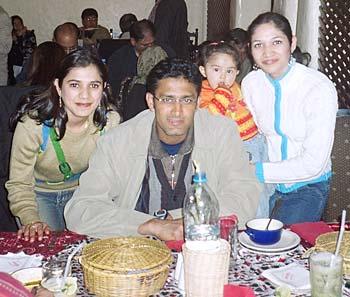 If you encounter/meet/see cricketers or sports personalities and photograph them, please scan the photographs and mail the pictures to us. We will feature the best images right here on Cricket or Rediff Sports.
Reader Puneet Sharma sent us these pictures from New Delhi.
'This is an image taken from my camera in a Lahore restaurant where Anil Kumble was also dining during the Indo-Pak Test series in January 2006,' writes Puneet.
'On Kumble's left is my sister-in-law Kamakshi and on the right is my daughter Kavya and my wife Vidushi Sharma holding her... . Kumble is a true gentleman. At least 20 photos were taken with him while he was having his grub and he obliged every single person that day for photos and autographs... 10 on 10 to him for that; just like Jim Laker.'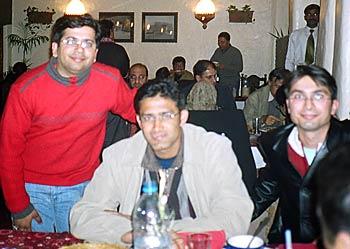 '...this one is my brother-in-law Gaurav on the left and me, Puneet Sharma, on the right during the same photo shoot.. we were lucky to get clicked with India's leading wicket-taker in Tests.'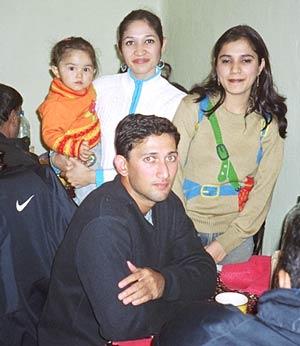 'This is the same eatery, that night in Lahore. My sister-in-law and my wife, holding my daughter Kavya, getting clicked with Agarkar.'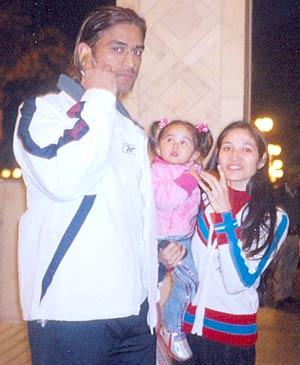 'The hottest cricketer in demand nowadays... this one is just outside the Taj Palace in New Delhi, clicked in December 2005... Mahendra Singh Dhoni obliged us with this snap. On the very day Tendulkar got his world record 35th century in Delhi against Sri Lanka... Ironically, Dhoni shot to stardom after that month and I guess our snap with him proved lucky for him and he became immensely popular in India henceforth.'
So rush those photographs to us!