Home > Cricket > PTI > Report


Boje is innocent, says Bacher

S S Ramaswamy | May 30, 2006 15:41 IST



Former Chief Executive of South African Cricket Board Dr Ali Bacher firmly believes that Nicky Boje, alleged to have been involved in the match-fixing scandal, is innocent of any wrongdoing.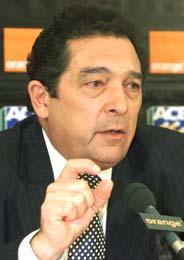 Bacher, the man behind the successful conduct of the 2003 World Cup in South Africa, also said the scandal that blighted cricket's good name six years ago, was the biggest crisis to have affected the game in its long history and he was happy the game had come out of it.
Bacher, who is in India as consultant for South Africa-based electronoics display firm Stellavista and is negotiating with Indian centres organising the matches in the ICC Champions Trophy to sell giant TV display screens and giant scoreboards, also came out in support of having a players' represenatative in cricket administration.
Asked specifically about Herschelle Gibbs, who served out a one-year ban for match-fixing related activities, and Boje, Bacher said the latter had no part in the scandal.
"Nicky Boje was innocent. I know that for a fact. When it (the scandal) all broke, Herschelle Gibbs' body language was not good. Boje was fine. I can read people. He was innocent," said Bacher in an exclusive interview to PTI.
Both Boje and Gibbs were named in the conversation, taped by Delhi Police, between Cronje and some Indian bookmakers and have been since wanted by the police for questioning.
They have refused to revisit India after 2000, when the scandal broke, fearing arrest.
"They (Boje and Gibbs) would have been tense coming back to India. Maybe the (South African) government should have got involved to stop it (possible arrest by Indian police) and allowed them to come here. But Boje was confident and said he was not involved. I believe him," Bacher, to whom Cronje confessed, said.
There is still a question mark whether the duo would visit India with the South African squad for the Champions Trophy event in October-November unless given an undertaking by the Indian authorities that they would not be arrested or questioned.
Bacher described the match-fixing scandal as a very traumatic period in his career as a cricket administrator.
"It was a very difficult period. The impact on the country was unbelievable. But we survived. The King Commission was criticised for conducting (the probe) without public, without TV cameras there. It was criticised even in the sub continent.
"It was not only South African problem, it was an international problem. But I think they made the right decision in the interest of the game. It helped in cleaning up the game.
"For a period it was very traumatic. I was fiercely criticised in South Africa for not supporting Hansie Cronje But I had to see the bigger picture, South Africa and world cricket. It was probably the biggest crisis in world cricket. If you think back on world cricket there were three crisis - the Bodyline, the Kerry Packer (world series) and this one," he said.
Talking about the current state of the game, especially his take on the oft-repeated criticism there was too much cricket, Bacher said it was not a question of too much cricket but of too many irrelevant one-day games which fans forget very soon.
"It's not the question of too much, but the same teams play each other too often, unlike in soccer where you have the top 32 team (in World Cups)", he said.
"In cricket there are seven or eight teams and they play too often. That's the problem. The results become a bit irrelevant. In one-day cricket the only thing that counts is the World Cup," the 64-year-old former South African captain said.
"If you ask anybody in South Africa what happened 18 months ago in one-day cricket he will be at a loss. He remembers only the World Cup. One day cricket means the World Cup. Too many other results are irrelevant," he said.
"We started our prepartions two years ago in advance, but if I have to conduct it again I would need three years, working full time," he said.
Bacher said he favoured a representative of the players on the cricket boards as it were the players who got the game going and not the administrators and their problems and conerns needed to be listed to with utmost respect.
"I have always been a strong advocate of players' representation at the hightest level because the game is for the players and not the administrators," Bacher said.
"Nine months ago I was appointed on the International Rugby Board which has big sponsors. As per a clause in their contract the players can appoint a represenatative of their choice to serve on the board. There are eight directors and one of them is a players' representative. He's listened to very carefully (at meetings).
"That's the way it should be in cricket (both at national and international levels) to discuss about players' rights, security, future etc. They must be given an open forum at the highest level. They are young. They need expert guidance. When they are worried about their future they must have protection.
"They are the people who allow Indian cricket to sell around 600 million USD. It's because of them and not because of the administrators," the former South Africa captain pointed out.
Bacher welcomed the slam-bang Twenty20 format but feared it would kill other forms if played in excess.
"It's good for short term gains in attracting big crowd, big sponsors. But long term we want more people to come for one-day game and Test cricket," he said.
"I am pleased the ICC has limited to three internationals per year. It's a good decision. If you have too much of this it will kill cricket. If you have too much of it you are inviting trouble," he felt.
Describing Test cricket as a very important product, Bacher expressed concern that this form was not in the pink of health in countries like Pakistan and Sri Lanka.
"Test cricket is a very important product. It's healthy in India, very healthy in England and Australia but not so healthy in Pakistan, West Indies and Sri Lanka. In South Africa it's 50:50.
"The last Ashes series was the best of all times. Unbelievable cricket was played. I had a very good South African team with Barry Richards, Graeme Pollock and others in the late sixties. On day one of a Test match if we scored 250 we were happy. If we made 275, we thought we had done very well. With 225 on board we were criticised, but not too badly.
"In one Test match in England (last Ashes series) and on the last day when the pitch is not good, Australia needed around 430  They got about 380 or 390 for 8/9. It was unbelievable. This is because of one-day cricket, It has helped in developing skills," he said.
Talking about the current state of South African cricket, Bacher said he was impressed with the fast bowling talent.
"We have good fast bowlers in Makaya Nitini and Dale Steyn. Steyn is young and fast. And then there's AB de Villiers. He's an exciting player, and is also young. They will do well in the World Cup," he said.
© Copyright 2006 PTI. All rights reserved. Republication or redistribution of PTI content, including by framing or similar means, is expressly prohibited without the prior written consent.



What do you think about the story?








Read what others have to say:





Number of User Comments: 1








Sub: Bacher's views

I feel that the high rate of scoring,between three and three point five runs per over in Test Cricket these days is very much connected ...


Posted by Ramani






Disclaimer