Home > Cricket > PTI > Report


'Selecting Ganguly is a step back'

Samiul Hasan | December 28, 2005 17:41 IST



Former Pakistan captain Waqar Younis believes the Indian selectors have taken a step back by selecting Sourav Ganguly for next month's gruelling cricket tour of Pakistan.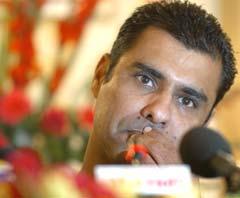 "I think the Indian selectors have taken a step back by picking Sourav because he is certainly not a player in form. I saw him batting in the New Delhi Test (against Sri Lanka) and he was clearly struggling to put bat to the ball", Younis said.
"I don't think you can select any player who is in such a bad form in his career. Somehow, he does not look like capable of scoring runs," Younis, who played 87 Tests and 262 one-dayers for Pakistan, said in an interview.
Ganguly was picked in the 16-man squad amidst drama and suspense after being left out of the third Test in Ahmedabad despite scoring 39 and 40 in Delhi.
The former India captain did not do any good to his cause when he missed the Ranji Trophy game for Bengal against Gujarat but escaped sanctions after the BCCI accepted his explanation. He, alongwith three others, were allowed to play the next round of Ranji Trophy and were also granted permission to join the team in Lahore two days later.
Younis said the Indian selectors had shown short-sightedness and had also proved they could not think like the Australians.
"The Australian selectors threw in three to four youngsters against South Africa instead of relying on big names. The teams are not built just on talent but how that talent is used and nurtured."
"The Indian team needs fresh legs and when you have a player as athletic, fit and confident like Mohammad Kaif, you need to throw him in the deep pan so that he can learn how to handle pressure," Younis said.
"I am sure the Pakistanis must be very happy to find Sourav in the team because there would be more pressure on the left-hander than what it was when he was making his debut", Younis, who took 373 Test and 416 one-day wickets, believed.
Younis admitted that he was happy to see Sachin Tendulkar touring Pakistan once again although this time he would be greeting the champion batsman from the commentators box rather than preparing from the other end to fire another thunderbolt.
"I still remember when I and Sachin made debuts in the same Test. And although I retired last year, Sachin is still going great guns. I hope he scores plenty more runs but certainly not on the forthcoming tour," Younis, who played four Tests and 26 one-dayers against India, said.
Younis said he does not feel heart-broken to still see Tendulkar playing while he has retired from the sport.
"Life is different for everyone. Sachin made his debut at the age of 16 and then he is a batsman. I believe I had a more demanding job to do and that curtailed my career. But it has been a pleasure to play alongside such a legend."
Commenting on the forthcoming series, Younis believed it would be an evenly matched contest as neither team enjoys cutting edge and both had their strengths and weaknesses.
"The basic problem with the Pakistan team, although they comprehensively beat England, remains that they hugely rely on Inzamam-ul-Haq to do bulk of the scoring and Shoaib Akhtar to terrorise batsmen and pick up wickets. Instead of relying on just two players, I think the Pakistan team must quickly learn to utilise all their resources and the onus of this lies on coach Bob Woolmer," Waqar said.
"The Indians have their grey areas. They depend heavily on their strong batting but even then collapse like a pack of cards. They are devastating and poor at times," Younis said.
The former captain said the Indians won in Pakistan on the 2004 tour because they bowled better and Pakistan batted poorly.
"Without belittling India's grand performance, poor shot selection by Pakistan batsmen compounded by some disciplined bowling by the Indian bowlers was the difference between the two sides. The wickets were good and the Indians made better use of them than the Pakistanis.
"I presume that similar sort of wickets will be prepared and lets hope the weather holds because in this time of the year, the dew and bad light might not allow 90 overs in the day."
Younis admitted that Irfan Pathan had improved tremendously since he played in Pakistan as a 19-year-old rookie. But according to the Pakistani, Pathan was still not lightening quick that may unsettle Pakistan batsmen.
"He consistently bowls to a teasing line and length and the Pakistani batsmen, specially Mohammad Yousuf, faltered against him because he was not picking the seam of the ball. I don't think Irfan Pathan will be a huge threat for Pakistan as compared to Anil Kumble and Harbhajan Singh," he added.
© Copyright 2005 PTI. All rights reserved. Republication or redistribution of PTI content, including by framing or similar means, is expressly prohibited without the prior written consent.



What do you think about the story?








Read what others have to say:





Number of User Comments: 27








Sub: Ganguly selection

Ganguly should be dropped from the team and his test and one day average for the past two years.There are lot of young talents avilable ...


Posted by SWAMINATHAN









Sub: Picking Sourabh is a step back

I am amazed to observe that even the foreigners are laughing commenting on the foolishness of our selectors to selct Ganguly that even sacrificing the ...


Posted by BHARAT SATISH TALWAR









Sub: Well said

Waqar Younis is suggesting a'Fieding allrounder' in Kaif. Maybe he is looking to replace Kiran More as the new (foreign) Chairman of the NSC, Cricket ...


Posted by S K Datta









Sub: Dear Waqar

Dear Waqar, Never Mind, Dont forget your comeback to the internation cricker after you have been dumped for one year. I dont think its so ...


Posted by ravi









Sub: Waqar - Mind your business

It would great to see Mr Waqar Yunis to mind his business and restrict his comments to his team (Pakistan), he has absolutely no right ...


Posted by Indian






Disclaimer