Home > Cricket > Message Board


September 08, 2004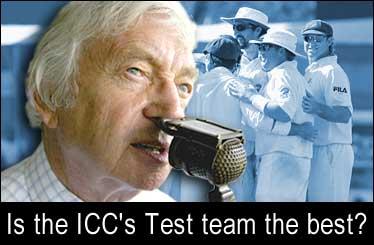 Five Australian players were named in the world Test cricket team of the year at the inaugural ICC Awards dinner in London on Tuesday.
Matthew Hayden, Ricky Ponting, Adam Gilchrist, Shane Warne and Jason Gillespie were named in the combined Test team while Gilchrist, Ponting, and Gillespie also made the one-day team of the year.
The World XI Test Team of the Year was chosen by the ICC's specially-appointed expert selection panel comprising Richie Benaud (chairman), Ian Botham, Sunil Gavaskar, Michael Holding and Barry Richards using their knowledge, judgment and expert opinion.
"We approached the statistical side of things and again the competitive nature of matches came under scrutiny. The aim was to produce a well-balanced eleven able to win matches played on a good cricket pitch," chairman of the ICC Awards selection panel Beanud said.
Surprisingly, just one Indian player, Rahul Dravid, made it to the Test eleven. Conspicuous by their absence in the squad are Sachin Tendulkar and Muthiah Muralitharan.
What do you think about the selection? If you can come up with something better, send us your team.


What do you think about the story?








Read what others have to say:





Number of User Comments: 222








Sub: ICC: BEST XI Cricket Team

Any team must start specialist batsmen first then move on to the allrounders and to the bowlers... in that view my team is... Mathew Hayden ...


Posted by Sarva D









Sub: my team .. only 3 aussi

few player who select themselves automatically are : hayden ponting dravid lara sachin kallis gilli gillespie akhtar murli harmison the only problem is .. that ...


Posted by shailesh









Sub: crazy bunch

Well these people left out Muralitharan..thats really bad...these people still think that he throws..crazy bunch....


Posted by Anand Dinesh









Sub: team icc

there cannot be any team without sachin tendulkar muralitharan


Posted by bhavik shah









Sub: My World Test Team

Dear Editor, Apart from the obvious and highly glaring mistakes of the ICC Test Team, there's nothing that we can do abt the bias thats ...


Posted by Biplab






Disclaimer