Home > Cricket > Reuters > Report

Keith Miller dies at 84

Greg Buckle | October 11, 2004 15:38 IST
Last Updated: October 11, 2004 17:30 IST



Australian Keith Miller, one of cricket's greatest all-rounders, and one of the game's most colourful characters, died at the age of 84 on Monday.

Miller, one of the leading players in Don Bradman's 1948 Ashes-winning side, died at a nursing home on the Mornington Peninsula south of Melbourne, Cricket Australia said in a statement.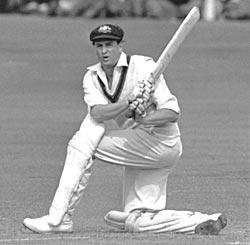 "Nugget" Miller was regarded as Australia's best all-rounder, CA said. The right-armer took 170 wickets at an average of 22.97 in 55 Tests from March 1946 to October 1956, scoring 2,958 runs at 36.97 including seven centuries.
"The stats, however, can't convey Miller's charisma, his presence and his powerful personality," CA's statement said. "A bomber pilot with the Royal Air Force, Miller was to become one of the most popular, dashing and successful of post-war cricketers.
"Miller announced himself with 185 for the Dominions against England at Lord's in August 1945 and went on to become a key member of Bradman's Invincibles of 1948.
"He formed a formidable new ball partnership with Ray Lindwall and was still good enough at 36 to take 10 wickets in a Test against England at Lord's."
FIERY BOWLER
Fans of Test cricket in the 1940s and 50s would recall Miller turning at the end of his bowling mark, pausing briefly to fold the sleeve on his right arm and flicking his mop of black hair back on his brow before gliding towards the crease for another fiery delivery.
In 2000 Australia named Miller at number six in their team of the century. He is also one of only two Australia players honoured with portraits at the Long Room at Lord's. Bradman is the other.
One of the most famous stories about Miller's swashbuckling attitude to life was his apparent instruction to team mates when captaining New South Wales in a first-class match.
After he was told he had 12 players on the field, Miller said: "One of you blokes (get) off and the rest scatter."
CA chairman Bob Merriman said it was this attitude that had endeared Miller to the cricketing public after the war.
"Keith Miller was a man whose dashing approach helped cricket regain its place in the public affection after the dark years of World War Two," Merriman said in a statement.
"He was one of those rare athletes who could turn a game with bat, ball or with an impossible catch.
"But more important, he was a man who understood that the game, great as it is, is just a game, and he played it that way.
"Australian cricket mourns the loss of one of its brightest sons."
© Copyright 2006 Reuters Limited. All rights reserved. Republication or redistribution of Reuters content, including by framing or similar means, is expressly prohibited without the prior written consent of Reuters. Reuters shall not be liable for any errors or delays in the content, or for any actions taken in reliance thereon.