Home > Cricket > Interview


The Rediff Cricket Interview / Shaun Pollock

November 30, 2004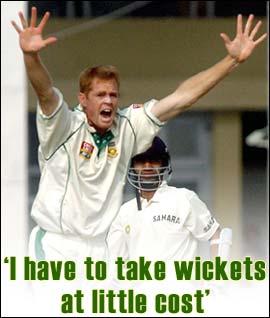 Shaun Pollock in the only present day bowler who makes Australia's Glenn McGrath look generous. He has an economy rate and bowling average better than that of the man from the New South Wales bushes, and can even replicate his accuracy.
But there is no comparison about their strengths with the willow. While Pollock is rated as one of the best all-rounders of the current lot and has just crossed the 3000-run mark, McGrath is still grinning about the first Test fifty he scored only last week.
Born in a cricket family, Pollock has been able to combine the fast-bowling talent of father Peter (116 wickets from 28 matches) and the batting ability, though not as fluent and prolific, of uncle Graeme (2256 runs at an average of 60.97).
He made his debut for South Africa during the sunny nineties and has seen the team through in difficult and despairing situations. Now one of the two seniors in the side touring India, the 31-year-old former South Africa captain talks about the team in transition mode and the promise it holds in an e-mail interview with Deepti Patwardhan.
How does feel to be back in India?
Fantastic! I have been here before and it is always a great experience. The people have an amazing appetite for the game and its players. Such passion! I am particularly looking forward to Eden Gardens as I missed out in '96.
On your last tour to India, South Africa was the favourite and the Indian team was going through problems on and off the field. This time it is the other way round.
I don't think we are going through too many problems. Yes, we have a had a disappointing run in one-day cricket, but our Test cricket has been okay. We have a new coach and a number of new young players in the side and there is great energy and passion in the squad; the guys who have not been here before are just loving it and, importantly, learning fast.
South Africa broke India's 16-year domination at home in 2000-01; is the current team using that performance as a mental start?
Only two of us were here then and we have, on occasion, shared those experiences. It was a very good performance to beat India in India; very few teams have done that. So, yes, I suppose it is inspiring in a way.
But that was four years ago. Now we have a new, dynamic squad and are focusing on this tour.
How different is it touring the subcontinent as the only experienced bowler in the side?
I have a responsibility to the team to take wickets at little cost, which is my job and always has been. However, I am enjoying working with the younger guys and offering help when it is needed.
In the first Test in Kanpur, South Africa were able to give India a fight even with a very young side. What attributes do you think will help the side to achieve further?
We are not as young as everyone is making us out to be. We have a lot of new international players, all of whom have played a lot of cricket. They are a very talented group, and that talent as well as the passion and energy of the team will really help this squad to achieve.
How do you assess your team's performance in Kanpur?
I thought we played some very good cricket, both with bat and ball. We showed tremendous patience on a flat pitch, even when [Viredner] Sehwag was playing brilliantly. We came back well to bowl India out on the fifth day.
The last Indian tour was marred by match-fixing allegations? Did it overshadow the team's achievements?
At that time we all new the enormity of our achievement of winning in India. Maybe, the gloss came off afterwards.
You took over captaincy and surrendered it in controversial circumstances. How enjoyable was the time in between?
I thoroughly enjoyed captaining South Africa; it was a great honour and I like to think that I did a pretty good job.
You average better with the bat and ball as a captain. Did the additional responsibility help to get the best out of you?
It would be difficult to say for sure, but I did enjoy the responsibility.
How fulfilling was it being named one of the Wisden Cricketers of the Year for 2002?
That was a great honour. To be alongside most of the greats of the game is pretty humbling. Also, it was a family highlight as my father and my uncle were both similarly honoured in 1966.
In the ten years of international cricket what has been the most decisive moment for you?
Taking over the captaincy was a particularly tough time. I was not expecting it and the circumstances were very, very difficult, and we went straight into a three-match ODI series against Australia.
How much pressure is there on the seniors to perform and guide the youngsters through this transition phase?
The senior guys accept the responsibility of helping and guiding the younger players in the squad. It's not a pressure situation at all; it's a pleasure to be able to share ideas and experiences with younger players.
South Africa was rated the second best team in the world, but many players from that team have now retired. Did the administration do enough to strengthen the bench then?
We certainly were not complacent; we had a number of world-class players in key positions, and when you remove them all in the space of a year it is naturally going to take time to fill those gaps. We are talking about nearly 1000 international caps among Allan Donald, Jonty Rhodes and Gary Kirsten. You can only replace players when they retire.
How big an effect did the 2003 World Cup defeat have on the team?
It was obviously a huge disappointment for the team and the country as whole. There were a lot of expectations on us and we did hurt for a while afterwards, but I think we showed strong character on the tour of England, particularly in the Test series.
Is the cricket board making any structural changes to help the process of rebuilding?
Cricket South Africa appointed Gary Kirsten as high performance director in July this year, and one of his roles will be to guide good young first class cricketers so they can make the transition from a Franchise team to the Test or ODI team without to many difficulties.
Headline image: Imran Shaikh
More Interviews