Home > Cricket > Report


Ganguly's troubled times

Rajneesh Gupta | November 16, 2004 15:42 IST



The two-Test ban served on Indian captain Sourav Ganguly by ICC match referee Clive Lloyd on account of slow over rate in the BCCI's Platinum Jubilee celebration match against Pakistan in Kolkata on Saturday is yet another episode of Ganguly's tussle with ICC match referees.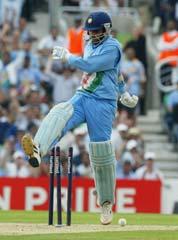 The ICC on Tuesday confirmed receipt of a letter of appeal from Ganguly against the suspension.
The ICC will now appoint a member of the ICC Code of Conduct Commission who will have seven days to hear and determine the appeal. Meanwhile, Ganguly is permitted to play international cricket pending the outcome of the appeal.
We look into past instances when Ganguly invited the wrath of match referees.
March 27, 1998:  Third Test vs Australia in Bangalore. Match referee Peter van der Merwe suspended him for one match for showing dissent to an umpire's decision (Ganguly had shown his bat to umpire David Shepherd after being given out leg before wicket). Missed the ODI at Kochi vs Australia.
December 11, 2000: Fourth ODI vs Zimbabwe in Kanpur. Match Referee Barry Jarman handed him one match ban and two-match suspended ban for showing dissent, attempting to intimidate umpires and bringing the game into disrepute. Had to miss the next ODI at Rajkot.
July 26, 2001: Fifth match of the Coca Cola Cup vs New Zealand in Colombo. Ganguly was found guilty of dissent by match referee Cammie Smith. After being given out leg before wicket, he raised his bat and left the pitch shaking his head. Banned for next ODI vs Sri Lanka.
August 1, 2001: Eighth match of the Coca Cola Cup vs Sri Lanka in Colombo. Ganguly was found guilty of bringing the game into disrepute by match referee Cammie Smith. He was seen using abusive language at Sri Lankan batsman Russell Arnold when the batsman was given out. Ganguly first lost his cool when Arnold survived a vehement caught behind appeal before directing a stream of verbal abuse at the left-hander when umpire gave him out lbw next ball.
November 20, 2001: Second Test vs South Africa in Port Elizabeth. Match Referee Mike Denness created history by punishing six players of the Indian side on different accounts. Tendulkar was suspended for one Test match for tampering the ball, Sehwag was banned for one Test for excessive appealing and attempting to intimidate the umpire. Ganguly was slapped suspended sentence (one Test match ban and two ODIs) for failure to control his players. The whole episode almost caused a split in Test playing nations. India's appeal to change the match referee was turned down by the ICC and the two boards played the third Test with their own match referee. No surprise, the Test was stripped-off of official status by ICC.
December 22, 2002: First Test vs New Zealand in Wellington. Team fined 35 per cent of its match fee for slow over rate during New Zealand's first innings.
December 8, 2003: First Test vs Australia in Brisbane. Ganguly was docked 10 per cent of his match fee while the team 5 per cent for slow over rate.
January 22, 2004: Seventh match of VB Series vs Australia in Sydney. Ganguly was fined 80 per cent of his match fee while the team 15 per cent for slow over rate.


What do you think about the story?








Read what others have to say:





Number of User Comments: 6








Sub: against icc

sir, sourav ganguly is good cricket player and the captain for indian team.so he have the own rights to express it .the icc decision is ...


Posted by ranjith kumar.s









Sub: ICC is a worst organization

ICC is a worst organization I would ever know in my life for a sports body..why?? Because the way it functions. It is pretty obvious ...


Posted by Reddy









Sub: Regarding Ganguly's ban for two tests

Hello sir, This is not at all fair for banning our captain Sourav Ganguly for 2 test matches, the ICC should consider the fact about ...


Posted by Michael Ananth R.









Sub: Umpiring - need for change

I am always surprised by how easily and for what meager reasons Ganguly is often found guilty of dissent by match referees. I agree Ganguly ...


Posted by Chaitanya Mutyala









Sub: Match Refrees and Indian Cricket Team

It is of no surprise that Ganguly is once again in trouble and is being punished by the match referee. India and other contries in ...


Posted by Bhargav Dave






Disclaimer