Home > Cricket > Report


Pathan can go a long way: Prasad

Harish Kotian in Mumbai | December 16, 2004 18:25 IST

Former India medium pacer Venkatesh Prasad feels that pitches in India need to be improved in order to produce more fast bowlers.
 
"Fast bowling is a tough job, specially in India. Hence, you must produce sporting pitches which are conducive for fast bowlers as well," said Prasad at Mumbai on Thursday. He is there to promote the ESPN Scorpio Speedster 2004 fast bowling contest.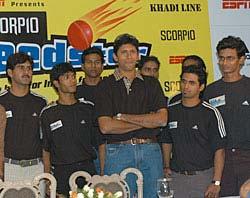 The Scorpio Speedster 2004 contest is a 10-city hunt for India's fastest bowler, the final of which, will be held at Shivaji Park Gymkhana, Mumbai on Saturday at 1900 hrs IST.
 
Prasad, who has successfully completed a Level-3 coaching course and the Asian Cricket Council's High Performance coaching course, said it is important not to change a bowler's action.
 
"Keep his natural action and help him to improve. If you try to change somebody's action it will mix up everything and create a lot of problems for the fast bowler."
 
He also had special words of praise for India's left-arm fast bowling duo of Irfan Pathan and Zaheer Khan.
 
"Pathan is bowling really well. Both Pathan and Zaheer have really done well together. They come from the same state, so it does help when you are playing for the country," said Prasad, who played 33 Tests and 161 one-day internationals between 1993-94 to 2001-02.
 
"Pathan can go a long way. It is important that he maintains his fitness. It is also necessary that he is mentally strong, because there will always be ups and downs in your career."
 
"He should not burn out or get injured, like what happened to Javagal Srinath, Anil Kumble and me. It is important that the team management realises it and does not overuse Pathan."
 
He also added that he is open to offers of being India's bowling coach.
 
"I would love to be India's bowling coach and help out the fast bowlers. I have spoken to a few of the current bowlers and will be glad to assist them"
 
On the lacklustre and inconsistent performances of Ajit Agarkar and Ashish Nehra, he said: "Agarkar and Nehra are very good bowlers. Fitness problems has affected them a lot, maybe that is why confidence levels have gone down. Hence it is necessary to be fit, mentally and physically, at all times."
 
He also spoke about his former team-mate and friend Anil Kumble, who recently became India's highest Test wicket taker.
 
"Kumble is really amazing. He has worked very hard on his bowling. He does not spin the ball too much, but has still picked up so many wickets. He has faced so much criticism throughout his career, but he has always given his best to Indian cricket.
 
"He knows his strengths and weakness, and over a period of time, has worked upon his weak areas. He is a very committed player. He does not miss a single practice session or a fitness session."
 
"It has really come as no surprise that he has taken most Test wickets for India."


What do you think about the story?








Read what others have to say:





Number of User Comments: 2








Sub: Where is Balaji

Dubbed the smiling assassin in PAK, this man has vanished as fast as he arrived?


Posted by Aqeel Merchant









Sub: oh my gawd..

prasad to coach indian bowlers !! god save india..i can only say as much. well, it maybe better than srinath coaching indian bowlers.. but , ...


Posted by kannan






Disclaimer