Home > Cricket > Message Board


December 02, 2004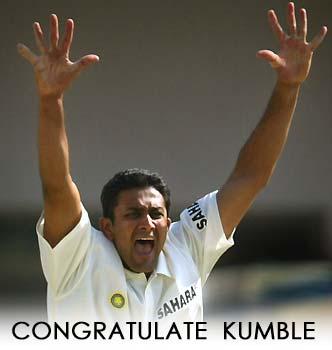 Anil Kumble joined Kapil Dev as India's highest Test wicket-taker by grabbing his 434th scalp on the fifth morning of the second and final Test against South Africa in Kolkata on Thursday.
The 34-year-old leg spinner reached the milestone when he had last-man Makhaya Ntini caught at slip by Rahul Dravid.
Kumble has been the backbone of India's spin department for 15 years. In Australia, last winter, he grabbed 24 wickets in four Tests and emerged the most successful bowler on either side on the tour. This year he already has 64 wickets in the bag from 10 Test matches.
Join us in congratulating him on his achievement.


What do you think about the story?








Read what others have to say:





Number of User Comments: 98








Sub: congrats!!!!!!!!!!!!!!! anil

i'm a great fan of u and will keep track of ur records,congratulations on ur wonderful acheivement and wish u all the best in the ...


Posted by sreelatha









Sub: Congrats!!!

Hi Anil, You are an exemplary example and an icon. I respect you. Looking forward for more wickets from you.


Posted by Ragavendran Vaidhyanadhan









Sub: Perseverance, thy name is Kumble!!!!

Dear Anil Kumble, I have been an ardent follower of cricket and an ardent fan of India since I started understanding cricket. I especially followed ...


Posted by santosh kale









Sub: I wish Kumble has a long way to go

I congratulate the greatest bowler Ind has ever produced for his achievements all these years as the frontline performer.I wish him a long long career ...


Posted by rohan









Sub: congrats

hello mr .Anil kumble i am so delghted because you have achieved this record with so much of hardwork n grit.Infact i just think of ...


Posted by surya






Disclaimer