Home > Cricket > Message Board


April 23, 2004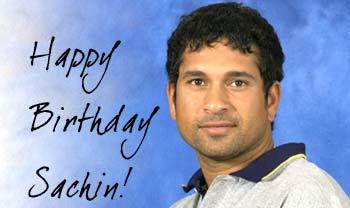 Sachin Tendulkar turns 31 on Saturday.
The master batsman played a key role in India's maiden Test and One-Day International series triumphs in Pakistan, scoring two centuries -- one in the Tests and one in the ODIs.
While he could only manage 153 runs in five Tests last year, the little champion broke the shackles in 2004 and has already scored 506 runs in four Tests so far.
With age and experience Tendulkar has matured. He now believes in guiding youngsters and playing a key role in the team's development.
Join rediff.com in wishing India's best batsman on his birthday and praying for a year full of runs and success.


What do you think about the story?








Read what others have to say:





Number of User Comments: 1751








Sub: happy birthday sachin

many more returns of the day sachin.may you recover soon


Posted by shravanthi









Sub: Good Wishes From Over all staff

The butterfly counts not months but moments, and has time enough. The person born with a talent they are meant to use will find their ...


Posted by NEELAM









Sub: sachin's birth day

hey sachin its me mudit ur biggest fan and i wish u many many many happy returns of d day....sachin i wanna meet u, if ...


Posted by mudit sharma









Sub: Many more happy returns of the day...

Hi Schi, Happy Birthday to you. May God give you more and more strength, ability to delight us in near future. Hope you are recovering ...


Posted by Ravi Kiran









Sub: happy birthday GOD

bhayya happy birthday..., before i die i need to meet u atleast once bhayya..i daily pray for juz one boon to meet sachin bhayya...,hope this ...


Posted by murali maankar






Disclaimer