Home > Cricket > Message Board


April 01, 2004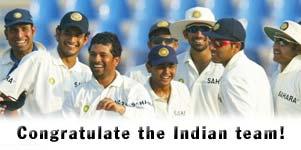 There were joyous scenes at the Multan Stadium as India secured its first Test win on Pakistani soil, beating the hosts by an innings and 52 runs on Thursday.
The Indians had not won any of their previous 20 Tests in Pakistan, losing five and drawing 15.
It was only India's second innings victory over Pakistan. The other was the inaugural Test between the two teams in New Delhi in 1952.
Sourav Ganguly and his boys are proving they are one of the best Indian teams ever. Victories in the West Indies, Australia, England and now Pakistan have seen them shed the tag of home tigers.
Join in the celebration and congratulate the Indian team on their historic victory!
Also Read:
'I got a 300 with my flawed technique'
Multan memento
From one Pathan to another


What do you think about the story?








Read what others have to say:





Number of User Comments: 350








Sub: II nd Test in Lahore

Seal this series win for India by winning this Test too. Good Luck


Posted by David









Sub: sourav! please be back!

Sourav please be back from your back injury! missing u a lot! get well soon!


Posted by moni









Sub: Felicitation

Congratulations to the indian team on their victory and hope they continue this is the same spirit.


Posted by Kabir Chadha









Sub: Congrats

I would like to wish the Indians for their team effort by this they showed the world that they r the best team in the ...


Posted by Srihari









Sub: First of Many victories

I read an article about when Pakistan started dominating India. If Javed's Six of the last ball has the impact for the next 15 years, ...


Posted by Siva






Disclaimer