Home > Cricket > PTI > Report


We do not want to be on cloud nine: Patil

H S Rao | July 15, 2003 13:46 IST
Last Updated: July 15, 2003 15:18 IST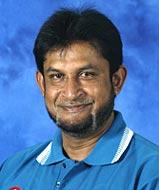 India 'A' coach Sandeep Patil is pleased with the performance of the team on its tour of England but also indicated that his young wards would not like to be on cloud nine with five more important matches coming up.
"So far we have done well. We have won four out of six matches - the other two ended in a draw. But we don't want to be on cloud nine because it has been a learning process as I have maintained from the beginning of the tour," Patil said at London.
"This is an experimental tour. We have been advised to try out different things which we have been doing. I am pleased with the performance of the team so far," he said.
"In the beginning you always have these problems. But I am happy that the team has settled down nicely and adopted to the changing conditions. We have done pretty well."
Asked to single out a player for his exceptional showing, the coach said "all 16 are the future of Indian cricket and they are trying their best. Our aim is just to give them chance and try them out under different conditions."
"Things have gone well for the team but we still have five important games to go. I hope they will continue the good work," he said.
The team also came in for high praise at a reception hosted in its honour by the Indian High Commission at London on Monday evening.
Congratulating the team, Deputy High Commissioner Dr Satyabrata Pal said the team has so far played "extraordinary cricket" to remain unbeaten.
Pal hoped most members of the team would play for India in the 2007 World Cup in West Indies and bring laurels to the country.
After beating Lancashire in a thrilling one-day match on Sunday, India 'A' will take on Surrey in a three-day match starting at The Oval on Tuesday.
© Copyright 2005 PTI. All rights reserved. Republication or redistribution of PTI content, including by framing or similar means, is expressly prohibited without the prior written consent.