Rupee snaps three-day fall as foreign banks sell dollars
Swati Bhat
in Mumbai
The rupee snapped a three-day losing streak on Wednesday as heavy dollar selling by foreign banks helped, while domestic shares also staged a modest recovery from the session's lows, further aiding sentiment.
Traders said the rally in the domestic market was closely mirroring moves in the non-deliverable forwards which was leading the spot market gains.
Large part of the dollar selling came from foreign banks said traders, while some technology exporters were also spotted selling, they added.
"We have seen good selling interest at higher levels over the last two days, so that should continue," said Hari Chandramgethen, head of foreign exchange trading at South Indian Bank.
"I expect the pair to hold in a 61.80 to 62.80 range in the rest of the week," he added.
The partially convertible rupee closed at 62.44/45 per dollar compared with 62.7525/7625 on Tuesday.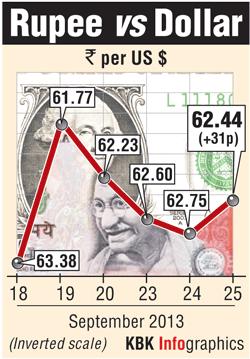 It moved in a range of 62.31 to 62.88 during the session.
Nifty fell 0.3 per cent, led by declines in blue chip shares, including Reliance Industries on caution ahead of equity derivatives expiry, but it recovered from a fall of more than 1 percent suffered earlier in the day.
Traders will continue to monitor the evolving macroeconomic conditions both domestically and around the globe for further direction.
In the offshore non-deliverable forwards, the one-month contract was at 63.07 while the three-month was at 64.20.
In the currency futures market, the most-traded near-month dollar/rupee contracts on the National Stock Exchange, the MCX-SX and the United Stock Exchange all closed at around 62.54 with a total traded volume of $2.81 billion.
Photographs:
Reuters