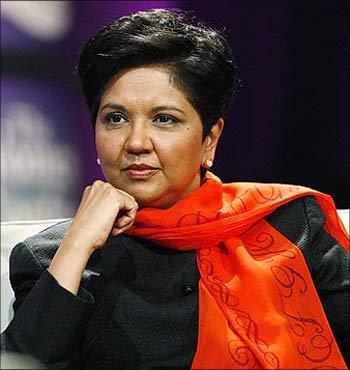 PepsiCo Chairman and CEO Indra Nooyi hoped that whosoever comes to power after the next elections will manage the country well so that India clocks a consistent 7-8 per cent economic growth.
"Our hope is that whosoever is in power, manages this country consistently for all the potential the country has," Nooyi told PTI when asked about the current political climate in the country.
When asked as to what she thought about Narendra Modi as Prime Ministerial candidate, she said: "I have no comments on political situations. I speak as the CEO of a large multinational company. Countries like India should be successful for the long term because India needs growth.
"India needs to grow at 7 to 8 per cent to ensure full employment and we all will do our part to invest in India to make sure India achieves its growth potential."
The US-based beverages and snacks major PepsiCo announced Rs 33,000 crore investment in India by 2020 to double its business capacity in India.
Nooyi, who earlier met Finance Minister P Chidambaram, said its investment decision in India is not linked to the current political climate in the country.
"We are not guided by elections. We are guided by potential of India. We are not waiting for any election results to invest in India. We are investing in India for its economic story," she added.
PepsiCo is investing behind the core India story, its demographic dividend, entrepreneurial culture and a thriving democracy, Nooyi said.
When asked if the scams like 2G spectrum allocation and 'coalgate' have impacted India's image globally, Nooyi said: "Yes and No. I think we should look at all these very carefully. On one hand you can argue it has tarnished the image and on the other hand you can say this is great, this has come out and they get addressed."
Stating that one should wait and watch how these things evolve, she said: "(I) hope that over the time all these get addressed at the root."