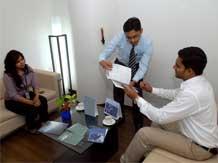 Despite high education levels, working young people in urban India don't fare well as far as financial literacy is concerned, says an Indian Institute of Management-Ahmedabad study.

'Financial Literacy among Working Young in Urban India', a working paper by IIM-Ahmedabad faculty members Sobhesh Kumar Agarwalla, Samir K Barua, Joshy Jacob and Jayanth R Varma, says several factors impact financial literacy among the working young in urban India.

"Despite the education levels of the respondents in the sample being high (a large proportion being graduate and post-graduate), that does not translate into adequate financial literacy.
"This is likely to be due to the absence of inputs relevant to financial literacy in the general education process.
"This can be easily corrected. Given the emphasis on education in India, it should be possible to enhance financial literacy among youngsters relatively quickly, through the inclusion of relevant material on financial literacy in the general education programme of schools and colleges," the paper states.

The study sample was drawn from six major cities across the country. Data was collected through a survey in May, 2012, by engaging an established market research agency; the target sample size was 1,000 respondents.
Apart from the level of education, attributes on which data was collected were gender, age, marital status, family income, financial decision-making process and budgeting of expenditure.

Living in joint families negatively impacted the level of financial knowledge, the study showed. While post-graduation and marriage increased the odds of financial literacy, absence of budgeting decreased the odds. Financial decision-making without consultation also decreased the chances of good financial knowledge.
According to the study, understanding of inflation wasn't widespread. "Only about 19 per cent of the respondents understood the impact of inflation on the rate of return," it stated.

The study showed the importance of contextual variables that might influence financial literacy.
The influence of joint families and the consultative financial decision-making process, trends specific to India, confirm the importance of contextual variables.
The working paper suggests any intervention strategy to enhance financial literacy among the working young must take into account sociological and behavioural aspects.
"The influence of the contextual variables suggests the focus of any strategy for improving the financial well-being of youngsters in India would have to be broader than just the individual," it said.

The study also explored the relationships between the various dimensions of financial literacy.
"While the significant positive relationship between financial knowledge and financial behaviour is, perhaps, to be expected, the significant negative relationship between financial attitude and financial behaviour is surprising.
"A plausible explanation for the latter result is likely to lie in the concept of locus of control.
"Despite having sensible attitude towards managing their finances, youngsters tend to behave in a profligate manner which gives rise to the observed negative association between attitude and behaviour," it said.

Ignorance is not bliss
Only about 19 per cent of the respondents understood the impact of inflation on the rate of return
About 24 per cent of the respondents exhibited high financial knowledge
About 87 per cent of the respondents reported they had attempted to carefully evaluate financial products
About 68 per cent of the employed were classified as possessing positive financial behaviour
Close to half of the respondents exhibited a positive attitude towards financial planning and did not show a very high propensity for consumption
About 90 per cent of the responded were found to be strongly inclined to assess the affordability of items
About 66 per cent of the respondents reported that they avoided borrowing by depending on their savings or assets during periods of financial difficulty
Image, courtesy: Business Standard