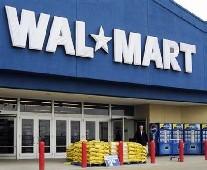 American retail major Walmart has sought time till September 30, 2014, for converting its $100-million investment in Cedar Support Services, the parent firm of Bharti Retail, into 49 per cent equity in the venture, it is learnt.

The one-year extension would give Walmart and its Indian joint venture partner in the cash and carry business, Bharti Group, more time to sort things out and decide on a retail foray together, people in the know said.

This would allow Walmart to assess the post-election situation as well before giving a final shape to its business plan in India.

Also, Enforcement Directorate investigation into Walmart's investment in the Bharti Group company to assess violation of Foreign Exchange Management Act is yet to be completed.

Without closure of the ED probe, Walmart is unlikely to enter India with its retail stores, a source pointed out.

In March 2010, Walmart had invested $100 million in Cedar, in exchange for a compulsorily convertible debenture.

After several extensions, the American chain had a deadline of September 30, 2013, for converting the CCDs into 49 per cent equity in Cedar, a step that would have crystallised into a front-end retail joint venture.

When contacted on the matter, a Walmart India spokesperson said, "As permitted by law, we have filed for an extension of the conversion date for the CCDs."

On the duration of the extension and by when it would convert the CCDs into equity, she said, "We have nothing further to share at this time."

Meanwhile, Walmart, which is talking to the Department of Industrial Policy & Promotion on its global sourcing model, while seeking relaxation of conditions in the multi-brand retail policy, might take a call on its broad India strategy soon enough.

"Walmart seems to be buying time to decide on its future in India," says Arvind Singhal, founder and chairman, Technopak Advisors, a retail consultancy.

It would have a year before converting CCDs to equity, rather than blocking itself in a JV at this point when policy clarities are still awaited, he added. President & chief executive officer, Walmart Asia, Scott Price, had met DIPP officials in September for a discussion on India operations, especially procurement.

The chain was still deeply interested in India and was not looking at exiting this market, though its relations with Bharti might have gone through rough weather, sources pointed out.

Walmart, like other foreign retail chains, has been opposed to 30 per cent mandatory sourcing from Indian small and medium enterprises, a condition in the multi-brand policy.

Walmart is likely to present a paper on its sourcing model soon to DIPP to show that the Indian procurement norm would be difficult to follow.

The Cabinet cleared up to 51 per cent foreign direct investment in multi-brand retail one year ago, but there hasn't been a single proposal so far.