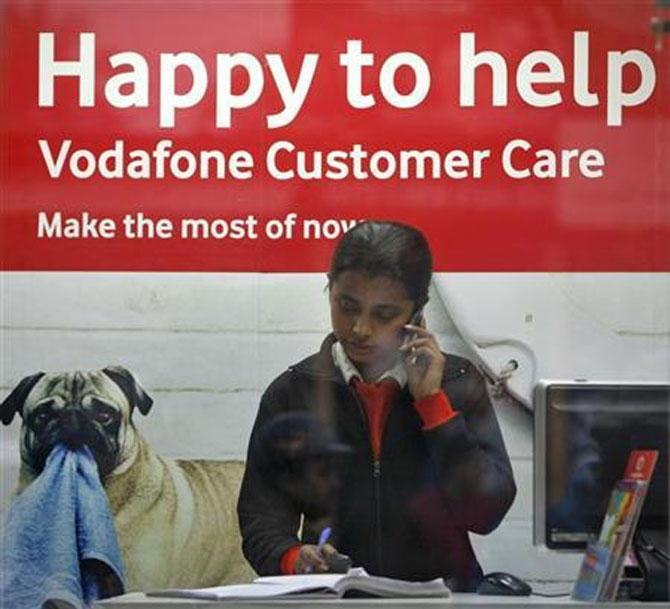 Vodafone India on Tuesday said it had recorded a net profit for the year ended March, the first since it started operations as Vodafone in the country.
Earlier, the company operated as Hutchison Essar, before Vodafone Plc bought into the company in 2007.

The company declined to share its net profit data for India.
"While the numbers may change with fresh investments, we hope to stay net profitable in the future," said Vodafone India Managing Director and Chief Executive Marten Pieters.

For the March quarter, Vodafone India reported a 1.6 per cent sequential increase in service revenue, backed by growth in its subscriber base, higher call rates and increased data usage.
Service revenue stood at £952 million (Rs 9,374.3 crore or Rs 93.74 billion). For 2013-14, Vodafone India reported a 13 per cent increase in service revenue at Rs 37,606 crore (Rs 376.06 billion), against Rs 33,281 crore (Rs 332.81 billion) in 2012-13. Its earnings before interest, tax, depreciation, and amortisation (Ebitda) increased 25.9 per cent to Rs 13,399 crore (Rs 133.99 billion) during the year ended March.
In 2013-14, India became the third-largest contributor to Vodafone Group's service revenue and operating free cash flow (OFCF). Vodafone India posted a 34.5 per cent rise in OFCF at Rs 8,466.4 crore (Rs 84.66 billion) , against Rs 6,294.1 crore (Rs 62.94 billion) in 2012-13.
The company acquired 14.2 million new mobile customers during FY14, raising its subscriber base to 167 million at the end of March; mobile internet usage by its customers more-than-doubled.
Data usage increased 125 per cent during the year, primarily due to a 39 per cent increase in mobile internet users and a 67 per cent rise in use for each customer. The company's 3G customer base jumped 114.8 per cent in 2013-14.

"It is difficult if you want to compare it with other companies. Nobody has the footprint we have. We are not present (with 3G) in Bangalore, where there are heavy-data users," said Pieters. Vodafone India has 3G spectrum only in nine circles.

During 2013-14, revenue from data browsing increased 72 per cent to Rs 3,437 crore or Rs 34.37 billion (10.7 per cent of its overall service revenue).
Pieters said the company would continue to look for more 3G spectrum — through acquisition from auctions or possible trading and sharing when the regulations are in place.

"Ideally, we should have 10 MHz of 3G spectrum in each circle; then, we will take steps for LTE (long-term evolution) services. The government needs to free spectrum as much possible," he said, adding the company would continue to adopt alternative technologies to solve the issue of spectrum scarcity.

Pieters said while Vodafone was like to be a "natural consolidator", it was unlikely to go for buy-outs as of now, given the high debt on the books of potential targets.

In February, Vodafone India had acquired 1,800-MHz spectrum in some circles. This, it said, it would use to launch 4G services through LTE technology.
"It's too early for 4G in India. We want to be ready for that technology in the future, but we have a long way to go with 3G services. We'll start building network for 4G from next year. But commercial roll-out will take time," said Pieters.

Like its competitors, Vodafone will continue to cut freebies and discounted minutes to boost overall yield, to keep pace with rising input costs.
Pieters declined to comment on whether the company would increase base rates.

During 2013-14, Vodafone Plc acquired Piramal Enterprises' and Analjit Singh's stakes in Vodafone India; now, it owns the entire stake.

While Pieters declined to comment on the company's tax tussle with the government, he said.

Vodafone had suffered heavily from the extremely aggressive tax collection system.
The government, he added, should bring investor sentiment back on track by rationalising the tax collection mechanism.
Milestone year
•In 2013-14, India became the third-largest contributor to Vodafone Group's service revenue and operating free cash flow
• Backed by growth in subscriber base, higher call rates and increased data use, Vodafone India reported a 1.6% increase in service revenue over the past quarter
•Acquired 14.2 million new mobile customers, raising its subscriber base to 167 million at the end of March