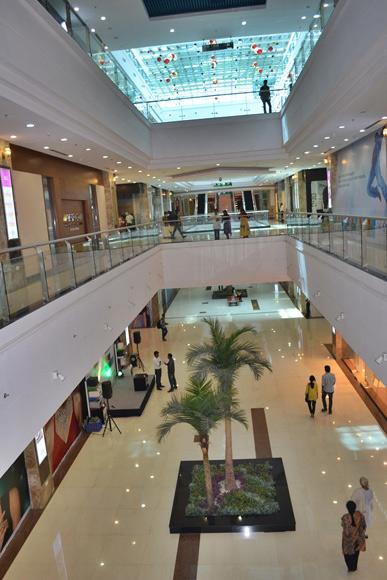 The vacancy levels in malls have come down to 14.51 per cent in July-September quarter mainly due to decline in supply of new mall space, a recent report said.
According to a survey by real estate consultancy firm Cushman & Wakefield, the vacancy levels declined by 0.6 per cent to 14.51 per cent compared to 17.51 per cent in Q2 2012.
Cities like Pune, Bengaluru, Chennai, Ahmedabad and Kolkata witnessed a significant decline in mall vacancy levels, while marginal rise in mall vacancy was recorded in Mumbai and NCR. Vacancy levels in Hyderabad, on the other hand remained stable.
A total of 7.7 lakh sqft of mall space was added during the quarter, of which 7 lakh in Pune and 70,000 sq ft in Kolkata, the report said.
"Given the low availability of quality retail spaces, select established main streets continue to gain traction. International and national apparels, footwear, food and beverages and jewellery retailers seem to be expanding aggressively.
"Landlords are being sensible and in case of excess supply, they are reducing the rentals even in main streets," Sanjay Dutt, Executive Managing Director- South Asia, Cushman & WakefieldIndia said.
He noted the demand for quality mall spaces located in areas having good residential catchment is on the rise.
"Reduction in mall vacancy over consecutive quarters in the past, points towards healthy demand for such spaces from retailers. Contrary to the trend, cities like Pune and Kolkata are seeing mall vacancy decreasing despite influx of fresh mall supply.
"Amidst the slowdown, retailers have become more conscious about the choice of their outlet's location. This has led to little or no turn out in terms of occupier demand for certain upcoming malls, pushing their opening dates forward," he said.
Dutt further said the current economic woes have also led to liquidity crunch amongst developers of certain projects, forcing them to put their under construction malls on hold.
"At present, the market is going through mixed sentiment as many new and existing retailers are trying to cash upon the potentialities of the Indian retail market while the pipeline for quality spaces is low. Resultantly, retailers are keen on growth in main street locations too," he added.