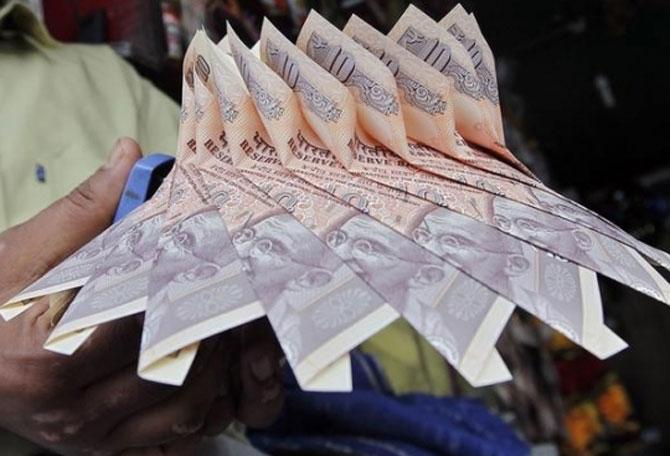 Foreign brokerage Goldman Sachs on Monday said it expects new Finance Minister Arun Jaitley to peg the fiscal deficit target for FY15 at 4.3 per cent, up from the 4.1 per cent stated by his predecessor P Chidambaram.
However, the Wall Street brokerage noted that 4.3 per cent will be well below its earlier assessment of 4.8 per cent.
"We expect a fiscal deficit target of 4.3 per cent of GDP for FY15, slightly higher than the 4.1 per cent presented in the interim budget by the previous government, but lower than our previous estimate of 4.8 per cent," it said in a statement.
The previous government's expectation on tax revenue growth of 21 per cent was "too optimistic," it said.
It will take three years for the high fiscal deficit, which was one the reasons why foreign rating agencies threatened to downgrade the country's sovereign rating to junk, down to 3 per cent, the brokerage added.
In order to achieve the fiscal consolidation in the medium term, the government will return to fiscal rules, tax consumption instead of production, broaden the income tax base by creating a new Internal Revenue Service, and reduce fertiliser subsidies, it said.
Goldman said that the government will focus on shifting spending from consumption to capital expenditure in its Budget.
"To boost growth, we think the government would need to focus more on capital spending, especially infrastructure, relative to subsidies. We therefore expect an increase in capex relative to the interim budget," it said, adding that fuel subsidy will come down to 0.6 per cent of GDP in FY15 from the 0.8 per cent in the year ago.
On the reform initiatives front, Goldman expects some pronouncements on structural reform initiatives like the roadmap for the Goods and Services Tax (GST), greater foreign direct investment in insurance and defence, and incentives for manufacturing.
Jaitley will be presenting his maiden budget on July 10 but apart from the announcements for the remainder of the fiscal, sector watchers are keenly awaiting for signals around the economic agenda for the five years of the NDA rule.
Goldman said the budget will be positive for growth, equities, and the rupee, and neutral or marginally positive for government bonds due to medium-term consolidation path.
It said the GDP growth will improve to 5.5 per cent in FY'15, up from the 4.7 per cent achieved in FY'14 and added that it will rise further to 6.5 per cent in FY'16. The NSE's 50-share benchmark Nifty will rise to 8,600 points in the next 12 months from the current 7,787 points.
On the rupee front, it expects a steady depreciation and said the rupee will maintain/appreciate to the 58 level in the next three months, and then depreciate to 61 in the next 6 months and go up further to 63 in the next 12 months.
Please click here for the Complete Coverage of Budget 2014 -15