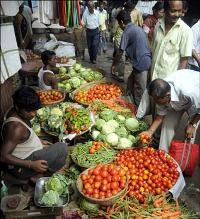 As the new government battles stubbornly high food inflation, the pre-budget economic survey on Wednesday predicted that the headline inflation would ease by year end, providing room to the RBI to cut interest rates.

"Headline WPI (wholesale price index) inflation is expected to moderate by the end of 2014.

However, risks to the outlook stems from possible sub-normal monsoon and higher crude oil prices (on account of the crisis in Iraq)," the Economic Survey 2013-14 tabled in Parliament by Finance Minister Arun Jaitley said.

As inflation eases, it is expected that the Reserve Bank of India would adopt a more accommodative stance and bring down interest rate.

"The monetary management challenge will also be helped by fiscal consolidation and addressing of supply side constraints that exacerbate food inflation.

"All these factors, in tandem, are expected to create room for monetary easing later this fiscal year," it said.

However, WPI inflation rose to a five-month high of 6.01 per cent in May from 5.20 per cent in the previous month mainly driven by higher prices of food items.

Talking about the challenges, the Survey said, the Meteorological Department has predicted below-normal rainfall at 93 per cent of the long period average with 70 per cent probability of an El Nino occurring.

The odds of a drought are 60 per cent now, compared with 25 per cent in April, Skymet, a private forecaster said.

Besides, the other most prominent risk (to price rise) is the impact on oil prices on account of the crisis in Iraq.

Crude oil prices are hovering around $110 per barrel.

Two-thirds of India's oil needs are met through imports. Iraq is the second-largest oil supplier after Saudi Arabia.

The survey said inflation showed signs of receding with average wholesale price index inflation falling to a three-year low of 5.98 per cent during 2013-14 compared to 7 and 9 per cent over the previous two years.
Please click here for the Complete Coverage of Budget 2014 -15